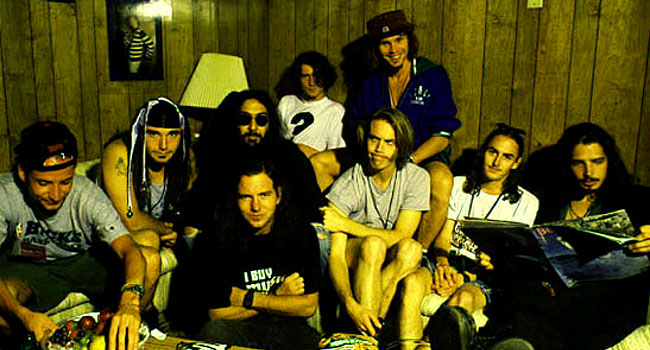 As we continue to remember Kurt Cobain 20 years after his suicide, let's take this opportunity to look back even further to the beginnings of what was to become "grunge." While bands like Green River, Melvins and Mudhoney all had music released by 1988, their mixing of punk and metal mostly set the scene for grunge's mainstream success.
While 1991 has become dubiously known as "the year punk broke" because of the success of Nirvana's Nevermind, it's 1989 that I find most interesting. We generally think of grunge as a '1990′s phenomenon, but its roots dig back into the middle 1980′s and that decade's last year looks like the high water point before the damn burst.
Let me explain…
Mudhoney's self-titled 1989 debut album is considered disappointing in light of the singles and EP's that came before it, but it marks a milestone in grunge music: Mudhoney boasted members from both Green River and the Melvins, tying them back to the very beginnings of the Seattle sound, and Kurt Cobain acknowledged them as a major influence on Nirvana. In 1989 Mudhoney was straddling the first and second waves of grunge in a manner that makes their debut album seem much more important 25 years on.
Soundgarden's Louder than Love came on the heels of their definitive debut LP, Ultramega OK. Louder was the band's major label debut and the record most fans heard first as the band screamed toward mainstream success.
Mother Love Bone's first release was the 1989 EP, Shine. While the story of the band's tragic lead singer, Andrew Wood, has earned MLB a place in grunge history, his overdose death cut short the band's musical impact. However, MLB's Stone Gossard and Jeff Ament (who both traced their roots to Green River) would quickly go on to form two successful projects out of MLB's ashes: Temple of the Dog and Pearl Jam.
Nirvana's debut album, Bleach was released in 1989.
These albums aren't necessarily my favorite grunge records. In fact, one can argue that the genre hasn't held up particularly well. That said, grunge was a wide cultural phenomenon — one that happened to have a great soundtrack. The music still speaks to a particular time in our collective history and it always will. 1989 is the year when it all comes together for the Seattle sound. That's the tipping point.
Stay Awake!
Please subscribe to my YouTube channel where I archive all of the videos I curate at Insomnia. Click here to check out more Music posts