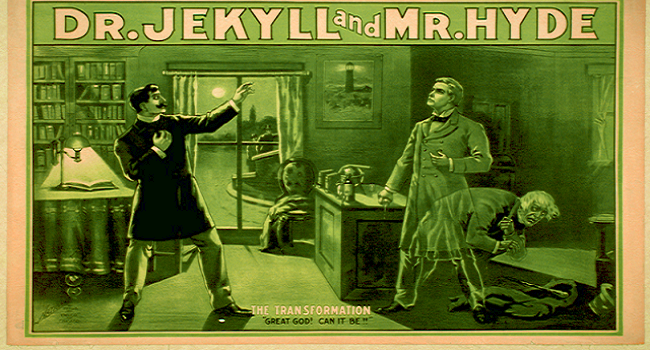 According to the Filmsite page, 1908 was a big year for the movies: the first film industry union was organized, D.W. Griffith began making movies, and A Visit to the Seaside, the first natural color film was released. It was a banner time for the still-new medium, and perhaps the most important milestone of the year was the release of the very first horror film ever.
Here's the Wiki on the original version of Dr. Jekyll and Mr. Hyde. It was released on May 21 in Chicago, in 1908 …
Directed by Otis Turner and produced by William N. Selig, the screenplay was adapted by George F. Fish and Luella Forepaugh based on their 1897 four act stage play, which was condensed into a one reel movie short.
This is the first screen adaptation of Robert Louis Stevenson's novel, Strange Case of Dr Jekyll and Mr Hyde.
Regarded by many as a prestigious production, the critics were enthusiastic, giving the actor in the title role special mention. "The change is displayed with a dramatic ability almost beyond comprehension."
The film was released seven months after the death of stage actor Richard Mansfield. Mansfield created the part in the theater beginning in 1887.
I'd love to see the stunning performance at the center of this influential film, but, sadly, no known copies of the movie exist. Still, it's very telling that the horror genre emerged in movies at their very beginnings, and even if we can't watch the original Jekyll, this milestone speaks to the inherent cinematic qualities of maniacs and monsters, and we have Turner and his team to thank for all of the blood curdling screams, chainsaws, haunted houses and hockey masks that have come since.
I wish I could show Turner's original film here, but here's the next best thing: the 1912 version of the beast-in-the-man story, directed by Lucius Henderson and starring James Cruze in the dual role of Jekyll/Hyde….
Stay Awake!
Please subscribe to my YouTube channel where I archive all of the videos I curate at Insomnia. Click here to check out more Cinema posts.