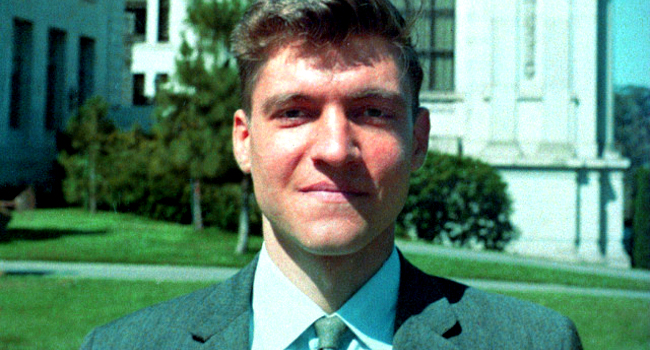 Today marks the birthday of environmentalist/philosopher/mathematician/Unabomber, Ted Kaczynski. While not exactly a day for celebration, it is a day to look back at a time before the internet, before Katrina, before Wikileaks, when a new digital environment was being created even as the actual, natural environment continued to become even more embattled. People argued about what was happening back then. People raised their voices and formed organizations. Kaczynski wrote books and mailed bombs. The Wiki does a great job of breaking down Kaczynski's path from math prodigy to victim of psychological abuse to anarcho-environmentalist bomber…
Kaczynski was born and raised in Evergreen Park, Illinois. While growing up in Evergreen Park he was a child prodigy, excelling academically from an early age. Kaczynski was accepted into Harvard University at the age of 16, where he earned an undergraduate degree. He subsequently earned a PhD in mathematics from the University of Michigan. He became an assistant professor at the University of California, Berkeley in 1967 at age 25. He resigned two years later.
While at Harvard, Kaczynski was among the twenty-two Harvard undergraduates used as guinea pigs in ethically questionable experiments conducted by Henry Murray.[6] In the experiment each student received a code name. Kaczynski was given the code name "Lawful". Among other purposes, Murray's experiments were focused on measuring people's reactions under extreme stress. The unwitting undergraduates were submitted to what Murray himself called "vehement, sweeping and personally abusive" attacks. Assaults to their egos, cherished ideas and beliefs were the tools used to cause high levels of stress and distress. These experiments were conducted at Harvard University from the fall of 1959 through the spring of 1962[7] and were part of the CIA-sponsored Project MKUltra experiments.[8]
In 1971, he moved to a remote cabin without electricity or running water, in Lincoln, Montana, where he lived as a recluse while learning survival skills in an attempt to become self-sufficient.[9] From 1978 to 1995, Kaczynski sent 16 bombs to targets including universities and airlines, killing three people and injuring 23. Kaczynski sent a letter to The New York Times on April 24, 1995 and promised "to desist from terrorism" if the Times or the Washington Post published his manifesto, Industrial Society and Its Future (also called the "Unabomber Manifesto"), in which he argued that his bombings were extreme but necessary to attract attention to the erosion of human freedom necessitated by modern technologies requiring large-scale organization.
Kaczynski's manifesto is the first place you should look to find out more about the man and his message. Lesser known is his short story "Ship of Fools," which is an allegory about a ship heading for a disaster while the passengers and crew continually squabble, intractably distracted by their greedy and selfish demands of one another. Here is a charming stop-motion-animation of the tale, enacted by Lego figures…
Stay Awake!
Please subscribe to my YouTube channel where I archive most of the videos I curate at Insomnia. Click here to check out more Counter Culture posts.