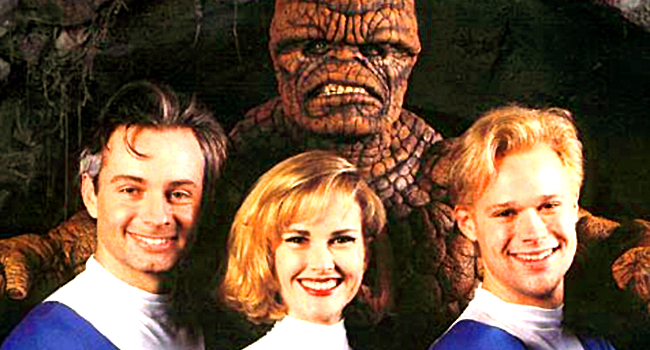 Now that Guardians of the Galaxy has secured the unbridled success of superhero films a guaranteed slot on American movie screens for the foreseeable future, I've been looking back to see how other comic book flicks have fared without the support of a trendy tidal wave at their backs.
My favorite find is this 1994 Roger Corman production of Marvel Comics' classic super-team, The Fantastic Four. Here's the Wiki…
The Fantastic Four is an unreleased independent superhero film completed in 1994. Executive produced by low-budget specialist Roger Corman and Bernd Eichinger (who went on to produce a big-budget Fantastic Four film in 2005), the film was based on Marvel Comics' long-running comic book and featured the origin of the Fantastic Four and that superhero team's first battle with the evil Doctor Doom, combining the superteam's origin from The Fantastic Four #1 and Doom's origin from Fantastic Four Annual #2 with original elements.
…Speculation arose that the film had never been intended for release, but had gone into production solely as a way for Eichinger to retain rights to the characters; Stan Lee said in 2005 that this was indeed the case, insisting, "The movie was never supposed to be shown to anybody," and adding that the cast and crew had been left unaware.
This flick is particularly interesting given the dismal 'Four films that have actually been showcased in feature releases. Here's what Film Threat's Clint Morris had to say about this bare-bones production…
"Yes it's terribly low-budget and yes it's derisorily campy and feebly performed, but at the same time there's also something inquiringly irresistible about this B comic tale that makes you wonder why it didn't get a release somewhere along the line. Even if it does resemble Toxic Avenger [more so] than say, Spider-Man … The script isn't actually all that bad and some of the actors—notably Michael Bailey Smith—are actually quite good here, and with an extra polish I think they might have been able to release this thing."
However, it was never to be. Who cares, it's still a delight. Here's The Fantastic Four (1994)…
Stay Awake!
Please subscribe to my YouTube channel where I archive all of the videos I curate at Insomnia. Click here to check out more Cinema posts.