Today we celebrate the birthday of Mark Mothersbaugh, lead singer and co-founder of Devo. While best known for one of the sexiest MTV videos of all time for "Whip It," the band's mission as absurdist satirists of mainstream culture is what secures them a place in the rock pantheon.
Devo rejected hippie escapism as well as the ungrounded aggression of punk — "We knew why we were angry. We knew who we were angry with" — to criticize technology, social conformity and dumbed-down consumer culture. The band's name alludes to "devolution," a concept born from the idea that the band felt everything and everyone in America was becoming stupider and uglier as the country descended into the Reagan-era.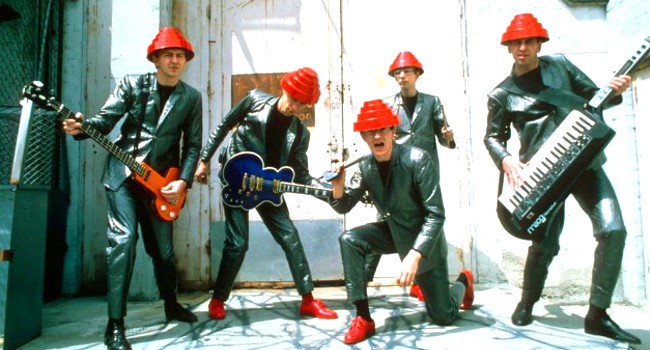 While the band's modus operandi is familiar to fans, even many Devo loyalists don't know the full details of Devo's origin story: Mothersbaugh and fellow Devo co-founders Gerald Casale and Bob Lewis were all attending Kent State University in 1970 when the Ohio National Guard opened-fire on unarmed student anti-war protesters killing four and wounding nine. It was a catalyzing event for the band and one that proved their then-nascent idea that idiocy found its reflection in art in the form of a kind of spastic tragedy.
Are We Not Men is an in-production documentary of the band that's got fans waiting on pins and needles. While I prefer to post full films/docs/shows here, this fat clip from the upcoming movie offers an illuminating glimpse at how the lighting-flash-horror of the Kent State shootings brought Devo yelping and jerking to life. The video also includes the band's jaw-dropping debut on SNL…
Devo Documentary Kent State from Tony Pemberton on Vimeo.
Stay Awake!
Please subscribe to my YouTube channel where I archive all of the videos I curate at Insomnia. Click here to check out more Music posts