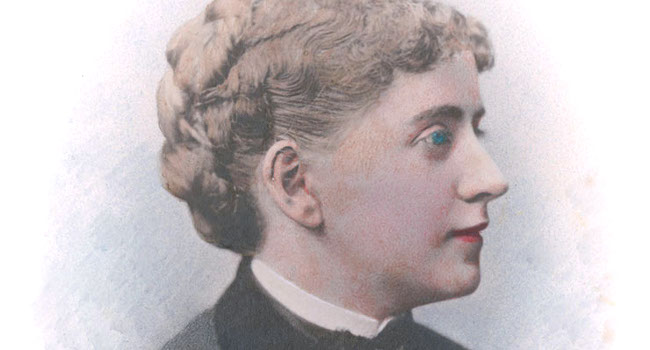 Ida Craddock was a 19th century champion of free speech and women's rights who is of particular interest to Insomnia due to the occult mysticism that permeated her voluminous, pioneering writings on human sexuality. Craddock is considered the first great hero of the sexual revolution — she can also be seen as its first martyr. Here's the Wiki…
Craddock wrote many serious instructional tracts on human sexuality and appropriate, respectful sexual relations between husband and wife. Among her works were Heavenly Bridegrooms, Psychic Wedlock, Spiritual Joys, Letter To A Prospective Bride, The Wedding Night and Right Marital Living. Aleister Crowley reviewed Heavenly Bridegrooms in the pages of his journal The Equinox, stating that it was:
…one of the most remarkable human documents ever produced, and it should certainly find a regular publisher in book form. The authoress of the MS. claims that she was the wife of an angel. She expounds at the greatest length the philosophy connected with this thesis. Her learning is enormous….This book is of incalculable value to every student of occult matters. No Magick library is complete without it.[7]
These sex manuals were all considered obscene by the standards of her day. Their distribution led to numerous confrontations with various authorities, often initiated by Craddock herself. She was held for up to several months at a time on morality charges in five local jails as well as the Pennsylvania Hospital for the Insane.
Her writings on supernatural topics also continued throughout her life. One of her last books on this subject was Heaven of the Bible, published in 1897.
Here's a short doc on Craddock, her revolutionary writings, and her untimely demise…
Stay Awake!
Please subscribe to my YouTube channel where I archive all of the videos I curate at Insomnia. Click here to check out more occult posts.