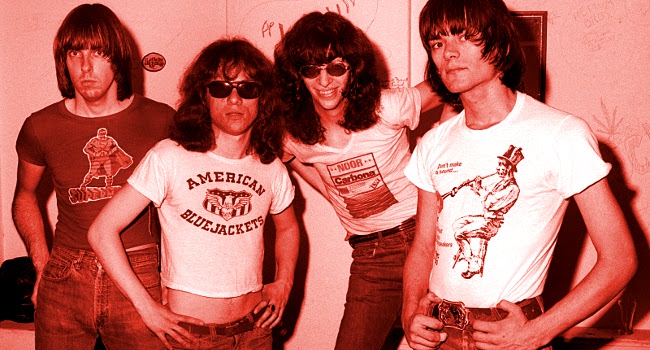 When I think of the films of Martin Scorsese, I'm never reminded of the music of the late, great Ramones, but between now and 2016 it's not likely I'll be able to make any other connection. It's just been announced that the great director will be telling the tale of the punk pioneers in an upcoming biopic. Here's the word on Scorsese's busy calendar from The Film Stage…
Martin Scorsese is truly a restless force. Between The Wolf of Wall Street, a pending NYFF showing of The 50-Year Argument, and the soon-to-shoot status of his long-brewing Silence, word from Billboard tells us he's now attached to a film about legendary rockers The Ramones, whose various estates have recently been reunited in a deal that's sure to open floodgates holding archival material. Are you a fan of New York's greasiest rockers? Good news: 2016, the 40th anniversary of their first album, will see remastered LPs, books, a play, a documentary, and, it would appear, a feature.
Considering how open he's been to the prospect of documentary films, I'd initially presumed Scorsese would make them the focus of yet another such project. Presumptions, however, are sometimes wrong, and I think Billboard's wording on this is clear enough: "The documentary is just one of several projects in the works. Among the others [... is] a film, which already has Oscar-winning director Martin Scorsese attached."
At first glance it might seem like an odd marriage, but no filmmaker has evoked the gritty 1970′s in New York better than Scorsese, and the director is one of cinema's best magicians when it comes to his alchemical combinations of rock 'n' roll and moving images.
In the meantime, here's a documentary tribute to the life and music of my favorite Ramone…
Stay Awake!
Please subscribe to my YouTube channel where I archive all of the videos I curate at Insomnia. Click here to check out more Cinema posts.