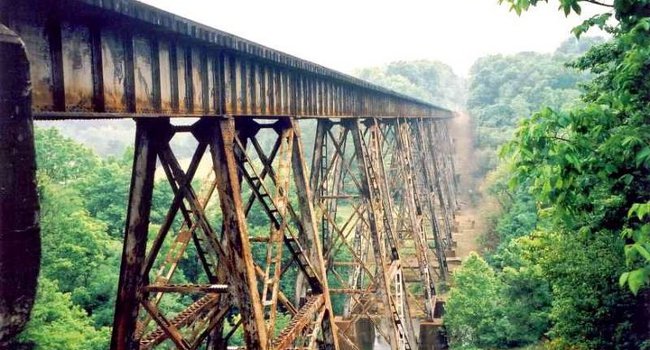 Continuing our spooky posts for the month of October, here's a story about a cryptoid monster who's said to inhabit a location near Pope Lick, Kentucky — it's almost too good to be true.
Check out this take on the legend from this Impulcity post…
Okay, to be fair, this place should always be abandoned. What caught our attention here, though, is the local legend of the Goatman, who has apparently taken up residence below the train tracks. Many claim that they've seen this legend, but it seems to be one of those things that have just become a myth, but some people still cling to the fact that they've definitely seen something strange beneath there.
Whether the Goatman exists or not still remains in speculation. Either way, venturing below that trestle at night will definitely creep you out enough to not venture around and find out. Cars rarely pass through the area, and every little noise seems to be intensified. Something about possibly being in the presence of a psychotic man-bear-goat-thing just doesn't sit well with us.
For me, the Goatman represents the contemporary echo of the probably ancient fear of the troll under the bridge. Bridges are dangerous and there have always been superstitions associated with passing over water or over a great height. Then again, the part of me that revels in unexpected discoveries is pulling for the horned one.
Here's a hilarious documentary about the KY Goatman that I just added to my YouTube channel
Stay Awake!
Please subscribe to my YouTube channel where I archive all of the videos I curate at Insomnia. Click here to check out more Cinema posts.