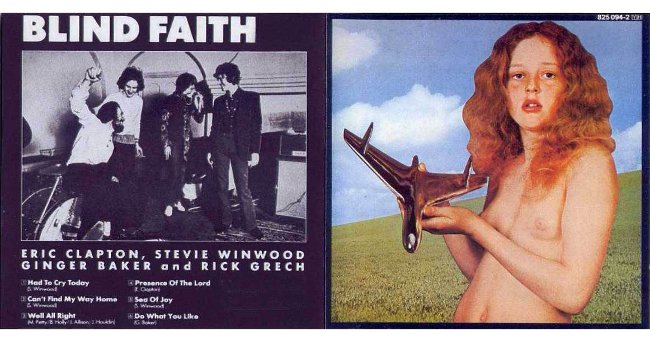 This year marks the the 45th anniversary of the debut of one the first supergroups: Blind Faith. The band boasted Eric Clapton and Ginger Baker from Cream, little Stevie Winwood from Traffic and Ric Grech, bass player for the progressive rock outfit Family and an jam session pal to both Clapton and Winwood.
Blind Faith's blues rock takes a step away from the sillier psychedelia of both Cream and Traffic. Don't get me wrong, I love silly psychedlia, Mr. Fantasy. This is a Tale of Brave Ulysses. That said, here, the fantastical flights are replaced with stirring soul and an epic like "Presence of the Lord" is a rock gospel classic for the ages. Incidentally, "Presence" was written by Eric Clapton. Don't forget, this was back when Clapton was a semi-divine entity and his guitar playing with Blind Faith is as good as it ever gets.
In 1969 the band played their very first show at a free concert in Hyde Park. Here's a great doc that tells the band's origin story and then presents the entire show…
Stay Awake!
Please subscribe to my YouTube channel where I archive all of the videos I curate at Insomnia. Click here to check out more Music posts