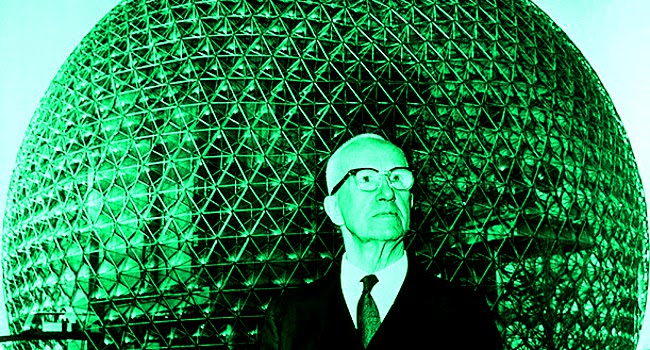 Buckminster Fuller is one of my heroes and I wanted to add this post to celebrate the the 65th anniversary of his greatest project in 1949. Here's some of the Wiki about the great architect/inventor/philosopher's Geodesic Dome…
Fuller taught at Black Mountain College in North Carolina during the summers of 1948 and 1949,[17] serving as its Summer Institute director in 1949. There, with the support of a group of professors and students, he began reinventing a project that would make him famous: the geodesic dome. Although the geodesic dome had been created some 30 years earlier by Dr. Walther Bauersfeld, Fuller was awarded United States patents. He is credited for popularizing this type of structure.
One of his early models was first constructed in 1945 at Bennington College in Vermont, where he frequently lectured. In 1949, he erected his first geodesic dome building that could sustain its own weight with no practical limits. It was 4.3 meters (14 feet) in diameter and constructed of aluminum aircraft tubing and a vinyl-plastic skin, in the form of an icosahedron. To prove his design, and to awe non-believers, Fuller suspended from the structure's framework several students who had helped him build it. The U.S. government recognized the importance of his work, and employed his firm Geodesics, Inc. in Raleigh, North Carolina to make small domes for the Marines. Within a few years there were thousands of these domes around the world.
As far as I'm concerned all buildings everywhere should embrace Fuller's efficient design principles, and every high-rise rectangle is a monument to ignorance, arrogance, and the capitalist status quo of waste, greed and lack of vision. In honor of the great man's life and ideas, here's a full-length documentary illuminating a great mind and a great heart…
Stay Awake!
Please subscribe to my YouTube channel where I archive all of the videos I curate at Insomnia. Click here to check out more Counter Culture posts.