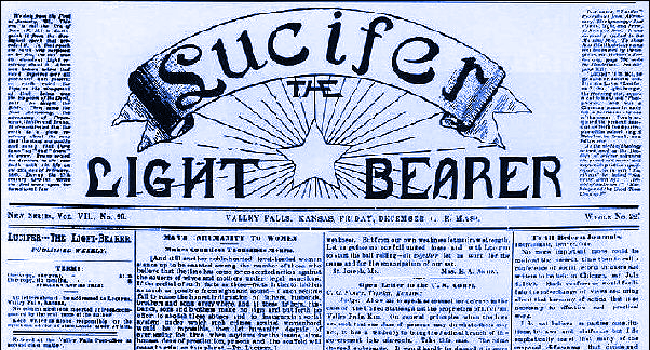 Annie Besant was a rabble rousing labor activist, a religious non-conformist, and a proto-feminist during a time before and after the turn of the 20th century when none of these preoccupations was the province of a proper English lady. I found myself looking up a documentary about Besant after finding an online catalog of Lucifer magazines published in .pdf format, available for free download, and in facsimile editions through Amazon. The magazine was founded by Madame Blavatsky, but Besant was its godmother, shepherding the publication through its run from 1889 – 1895. Here's a bit of history from the Wiki…
The journal was first published by Blavatsky. From 1889 until Blavatsky's death in May 1891 Annie Besant was a co-editor. Besant then published the journal until September 1895, when George Robert Stowe Mead became a co-editor. The journal appeared twelve times a year and was 50 to 60 pages long. The last of twenty volumes was published in August 1897. More than 2800 articles were published in this journal between 1887 and 1897. Then the journal was renamed to The Theosophical Review.
The journal published articles on philosophical, theosophical, scientific and religious topics. There were also book reviews (e.g. of Nietzsche's Also sprach Zarathustra).
This page links to both .pdf copies of Lucifer as well as print copies available through Amazon.
Here's Annie Besant's story…
Stay Awake!
Please subscribe to my YouTube channel where I archive all of the videos I curate at Insomnia. Click here to check out more Counter Culture posts.