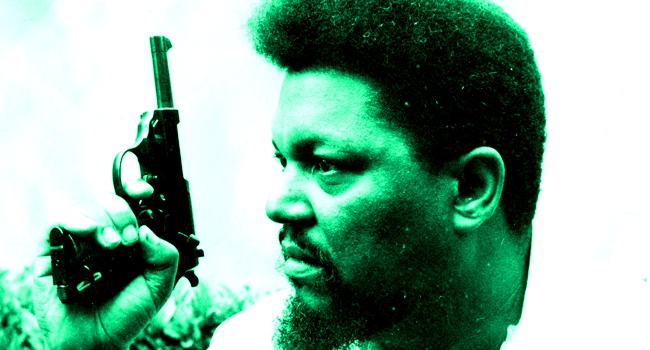 The news is recently filled with images of protests triggered by the murders of black teens by white police. However, reports about the similarities between these happenings and the Civil Rights protests 50 years ago are tightly controlled and focused on fantasies of reconciliation without retribution. It's as if we're suddenly all supposed to wake up one shiny day and just get along as if all of the oppression and violence and murder never happened.
One way this is accomplished is by narrowing the scope of the Civil Rights movement to a tight focus on Martin Luther King Jr. and his peaceful marching hand-in-hand with wonderful white folks who were part of the solution. I've no interest in diminishing King or his accomplishments or the philosophy of non-violence, but why is Malcolm X marginalized by comparison? How come Huey Newton is a footnote? Why have most Americans never heard of Robert Franklin Williams? Here's the Wiki…
Robert Franklin Williams (February 26, 1925 – October 15, 1996) was an American civil rights leader and author, best known for serving as president of the Monroe, North Carolina chapter of the NAACP in the 1950s and early 1960s. At a time when racial tension was high and official abuses were rampant, Williams was a key figure in promoting armed black self-defense in the United States.
Williams helped gain gubernatorial pardons for two African-American boys convicted for molestation in the controversial Kissing Case of 1958. He also succeeded in integrating the public library and the public swimming pool in Monroe. He obtained a charter from the National Rifle Association and set up a rifle club, which became active defending blacks from Ku Klux Klan nightriders. He used the NAACP to support Freedom Riders who came to Monroe in the summer of 1961. That year he and his wife were forced to leave the United States to avoid prosecution for kidnapping, on charges trumped up during violence related to white opposition to the Freedom Ride. The kidnapping charges came after a white couple sought shelter in Williams' home when they were confronted by black protesters while driving through Monroe's black community. A self-professed Black Nationalist, Williams lived in both Cuba and The People's Republic of China during his exile.
Williams' book Negroes with Guns (1962) details his experience with violent racism and his disagreement with the pacifist wing of the Civil Rights Movement. The text was widely influential; Black Panther Party founder Huey Newton cited it as a major inspiration. Rosa Parks gave the eulogy at Williams' funeral in 1996, praising him for "his courage and for his commitment to freedom", and concluding that "The sacrifices he made, and what he did, should go down in history and never be forgotten."
In this 1961 interview during Williams' exile in Dar Es Salaam, Williams outlines his philosophy and tells the story of his remarkable life and times.