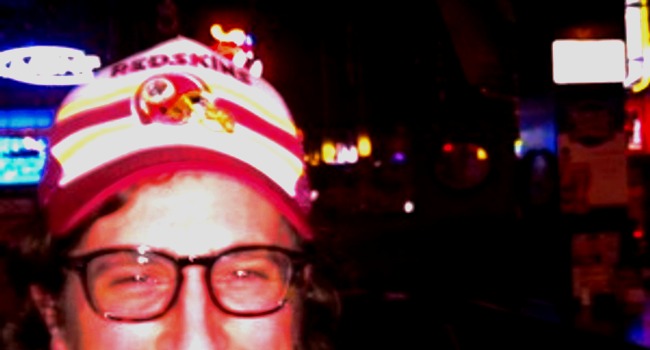 I was supposed to be doing a gallery talk with Daniel Holland at Red Arrow tonight, but the bad weather in Nashville found me on a text-go-round with the artist and the gallery last night, convincing ourselves that delaying the talk until 4:30 this Sunday afternoon was the best decision given the weather forecast. I'm writing this post on Wednesday night, watching the falling, freezing drizzle.
I'm preoccupied the talk because I'm really looking forward to sharing my recent correspondences and chats with Daniel, with the bigger audience we've been inviting to the event. Daniel and I have been in touch since last year — I highlighted his work in a review of a group show and spent the better part of a First Saturday evening chatting with him about his paintings at his solo show at Fort Houston. The exhibition at Red Arrow signals his biggest gallery exposure and it's arguably his best show yet. We've been emailing each other cryptic notes, poems, questions and answers for weeks now.
Last Friday night we met-up in The Pharmacy's beer garden where Daniel pays some bills as a bartender. Daniel is eloquent when he talks about craft beer, but he's also that rare artist who can speak eloquently about his work and his creative career. As I mentioned in a recent Facebook post, during our 90ish minute chat Daniel and I discussed the Mayan empire, automotive paint, sweet porter pints, East Nashville, Julian Schnabel, secret journals, poetic messages, Tom Waits, cigarettes, Kansas, Nashville, Detroit, South Carolina, Robert Rauschenberg, the black void of death, the futility of nihilism, house paint primers, rental trucks, the utility of mops, and the love of work.
Julian Schnabel isn't an artist I think of immediately when I look at Daniel's paintings, but he's an important influence and a timely one: After leading the pack in the New York art market explosion of the 1980′s, Schnabel's fortunes have risen and fallen. During that time he's become an outrageously successful filmmaker and recent retrospectives of his paintings find him getting the last laugh on critics who dismissed him in the last decades as a product of his own voluminous hype.
In lieu of my talk with Holland I offer this video that captures Julian Schnabel installing a recent retrospective in Italy, looking back on his career and his life with all of the hubris, humor, energy, criticism, ego, insight and insecurity one might expect from any artist playing the game decades into an iconic career…
Stay Awake!
Please subscribe to my YouTube channel where I archive all of the videos I curate at Insomnia. Click here to check out more Art posts.