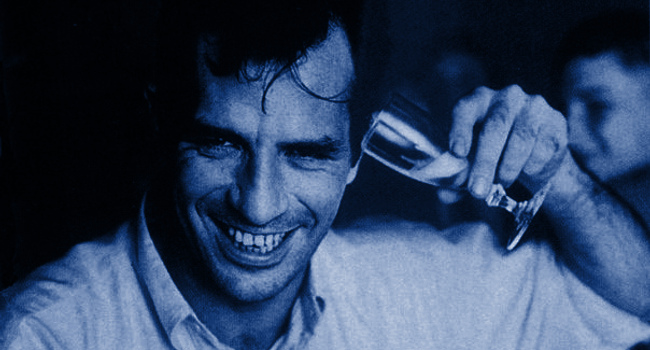 Dennis McNally is the author of my favorite Jack Kerouac biography, Desolation Angel. I love the book because it places Kerouac's story in the context of a creative movement that saw artists of every stripe striving for their authentic, original, individual voices. McNally invokes Monk, Cassavetes, Dean, Pollock and Brando into his universe, demonstrating that Kerouac was part of a bigger post-WWII creative breakthrough that occurred when European modernism was re-imagined through American eyes, ears and hands, creating what I consider to be the most important moment in American creative culture.
Here, McNally revisits his subject for The Daily Beast, tracing Kerouac's unlikely rise and untimely fall…
Not so long ago, some of Jack Kerouac's books were out of print and rare as hen's teeth. It's a true measure of his permanence that scarcity is no longer a problem.
What a difference a few decades make. I read with considerable interest the Library of America's announcement of their publication of the second volume of Jack Kerouac's oeuvre in March 2015, one that would include Visions of Cody, Visions of Gerard, and Big Sur. As I understand it, they are grouped chronologically—Volume I included On the Road, The Dharma Bums, The Subterraneans, Tristessa, Lonesome Traveler, and some journal extracts.
Perhaps the first lesson a good student of history (literary or otherwise) should hold close is that every study reveals at least as much about the time in which it was written as it does about the putative subject. So my biography of Kerouac, Desolate Angel (published in 1979), reflects an era in which he was considered passé. Although On the Road continued to sell, many of his books were out of print, and the idea of a complete-set publication project like Library of America's seemed unimaginable.
…Although On the Road's social impact gave me absolute confidence in the validity of studying Kerouac as an historical subject, it was reading Visions of Cody (and later Dr. Sax and Mexico City Blues) that made me aesthetically certain of his status as a truly important writer. Given the snobbishness of the academic world I was then navigating, that felt important…

…Big Sur is something entirely different. Though quite painful to read and intermittently a bit tedious in its attempts to produce onomatopoeic poetry from the sounds of the sea, it is an extraordinarily detailed account of his crackup—call it the d.t.s, or, as Michael McClure put it, a "long dark night of the soul"—in Lawrence Ferlinghetti's Bixby Canyon cabin. Two recent films testify to the power of the book. One is an adaption called Big Sur with Jean-Marc Barr as Kerouac and Kate Bosworth as his lover Billie. The other film is a documentary called One Fast Move Or I'm Gone, which features the real-life book characters Michael McClure, Carolyn Cassady, and Lawrence Ferlinghetti as well as such distinguished Kerouac admirers as Tom Waits, Robert Hunter, Patti Smith, and Sam Shepard. Having fans at that level of creativity pretty well confirms the book's artistry.
I recall Allen Ginsberg grumbling about the way Sterling Lord managed Kerouac's publication process after On the Road's success, seeing it as an ad hoc, shortsighted grab for cash. Of course, Jack might have had something to do with that, too.
In any case, all three men would be pleased to see the LOA effort to make all of Kerouac accessible. He deserves it.

Read the whole article at the Daily Beast link above. Watch Whatever Happened to Kerouac right here…
Stay Awake!
Please subscribe to my YouTube channel where I archive all of the videos I curate at Insomnia. Click here to check out more book posts.