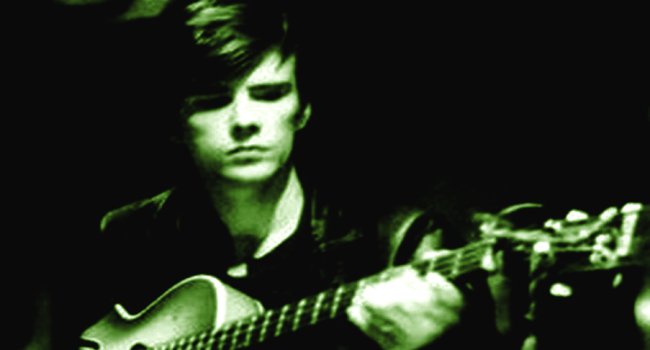 It's the time of the year when we remember the "Fifth Beatle," Stuart Sutcliffe who started "The Beetles" with John Lennon before his untimely death at the age of only 21 on April 10, 1962. Stuart was the band's original bass player as well as a dedicated painter who left the band to pursue a career as a visual artist. Sutcliffe was marking a trajectory that may have seen him rise to the thin air at the top of the British art scene, but that destiny was not to be. Of course, his work with Lennon and McCartney also leaves many unanswered questions about the fate of the band if Sutcliffe had continued making music with his friends. The Wiki has the tale…
Stuart Fergusson Victor Sutcliffe (23 June 1940 – 10 April 1962) was a Scottish-born artist and musician best known as the original bassist for the Beatles. Sutcliffe left the band to pursue his career as an artist, having previously attended the Liverpool College of Art. Sutcliffe and John Lennon are credited with inventing the name, "Beetles", as they both liked Buddy Holly's band, the Crickets. The band used this name for a while until Lennon decided to change the name to "the Beatles", from the word Beat. As a member of the group when it was a five-piece band, Sutcliffe is one of several people sometimes referred to as the "Fifth Beatle".
When the Beatles played in Hamburg, he met photographer Astrid Kirchherr, to whom he was later engaged. After leaving the Beatles, he enrolled in the Hamburg College of Art, studying under future pop artist, Eduardo Paolozzi, who later wrote a report stating that Sutcliffe was one of his best students. Sutcliffe earned other praise for his paintings, which mostly explored a style related to abstract expressionism.
While studying in Germany, Sutcliffe began experiencing severe headaches and acute sensitivity to light. In the first days of April 1962, he collapsed in the middle of an art class after complaining of head pains. German doctors performed various checks, but were unable to determine the exact cause of his headaches. On 10 April 1962, he was taken to hospital, but died in the ambulance on the way. The cause of death was later revealed to have been an aneurysm in his brain's right hemisphere.
God bless ya, Stu. Here's to ya…
Stay Awake!
Please subscribe to my YouTube channel where I archive all of the videos I curate at Insomnia. Click here to check out more Music posts