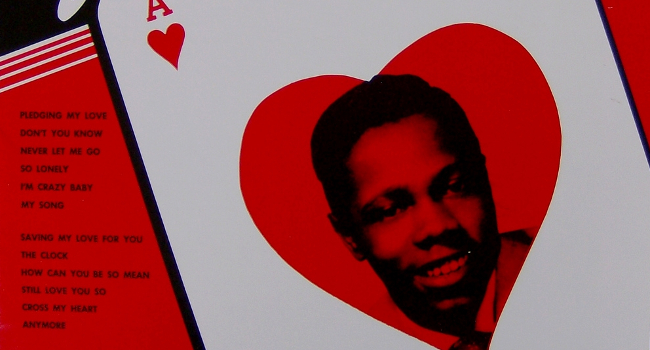 If Elvis was a white singer who adopted a black style, Johnny Ace was a black singer and piano player who started a sensation of his own by adopting the style of the white crooners he heard on the radio. Today we remember Ace's birthday on June 9, 1929. By the mid-50′s popular music was about to explode with the hybrid sounds of rock 'n' roll, but not before Ace enjoyed a remarkable series of hits. Here's the Wiki…
In 1952 Ace began heavy touring, often with Willie Mae "Big Mama" Thornton. In the next two years, he had eight hits in a row, including "Cross My Heart," "Please Forgive Me," "The Clock," "Yes, Baby," "Saving My Love for You," and "Never Let Me Go."[2] In December, 1954 he was named the Most Programmed Artist of 1954 after a national DJ poll organized by U.S. trade weekly Cash Box.
Ace's recordings sold very well for those times. Early in 1955, Duke Records announced that the three 1954 Johnny Ace recordings, along with Thornton's "Hound Dog", had sold more than 1,750,000 records.
However, Ace's biggest hit come after his mysterious, tragic death…
After touring for a year, Ace had been performing at the City Auditorium in Houston, Texas on Christmas Day 1954. During a break between sets, he was playing with a .22 caliber revolver. Members of his band said he did this often, sometimes shooting at roadside signs from their car.
It was widely reported that Ace killed himself playing Russian roulette.[4][5][6] Big Mama Thornton's bass player Curtis Tillman, however, who witnessed the event, said, "I will tell you exactly what happened! Johnny Ace had been drinking and he had this little pistol he was waving around the table and someone said 'Be careful with that thing…' and he said 'It's okay! Gun's not loaded… see?' and pointed it at himself with a smile on his face and 'Bang!' — sad, sad thing. Big Mama ran out of the dressing room yelling 'Johnny Ace just killed himself!"
Thornton said in a written statement (included in the book The Late Great Johnny Ace) that Ace had been playing with the gun, but not playing Russian roulette. According to Thornton, Ace pointed the gun at his girlfriend and another woman who were sitting nearby, but did not fire. He then pointed the gun toward himself, bragging that he knew which chamber was loaded. The gun went off, shooting him in the side of the head.
According to Nick Tosches, Ace actually shot himself with a .32 pistol, not a .22, and it happened little more than an hour after he had bought a brand new 1955 Oldsmobile.
Ace's funeral was on January 9, 1955, at Memphis' Clayborn Temple AME church. It was attended by an estimated 5,000 people.
"Pledging My Love"[6] became a posthumous R&B No. 1 hit for ten weeks beginning February 12, 1955. As Billboard bluntly put it, Ace's death "created one of the biggest demands for a record that has occurred since the death of Hank Williams just over two years ago." [10] His single sides were compiled and released as The Johnny Ace Memorial Album.
"Pledging My Love" can be heard in Mean Streets, Bad Lieutenant, Christine, and Back to the Future. Nowadays Ace many remember Ace due to Paul Simon's tribute to the singer, "The Late Great Johnny Ace."
Here's "Pledging My Love"
Stay Awake!
Please subscribe to my YouTube channel where I archive all of the videos I curate at Insomnia. Click here to check out more Music posts.