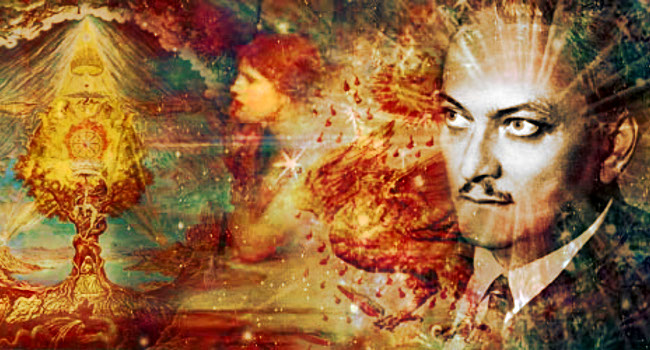 Manly P. Hall's The Secret Teachings of All Ages: An Encyclopedic Outline of Masonic, Hermetic, Qabbalistic and Rosicrucian Symbolical Philosophy is a cornerstone book in any esoteric library worthy of the name, and Hall himself was a spiritual prodigy whose publishing and teachings helped to synthesize core ideas of Victorian spiritualism for Americans in the early 20th century. Hall's ideas would also be revived again in the first New Age stirrings in American 1970′s. Here's a bit from a recent article about the new book…
Louis Sahagun's intriguing and well-written biography Master of the Mysteries is a thorough introduction to Manly Palmer Hall's life and ideas. Master was originally released in 2008; this year is seeing an expanded edition released by Process Media. There's a new chapter regarding Hall's relationship with Source Family guru and everyone's favorite hippie cult leader; Father Yod. Included in this edition is the early correspondence between him and his wife Marie Bauer, whose life consuming obsession with the Bruton Vault drove her slowly insane.

Sahagun takes us through Manly Hall's childhood and we discover that Hall was a prodigy spiritualist. Raised mostly by his grandmother, he became pastor of a church at 20, around when he published his first books, however a single book pushed him into the limelight. The Secret Teaching or Encyclopedic Outline of Masonic, Hermetic, Qabbalistic and Rosicrucian Symbolical Philosophy, which was published "before his 28th birthday". Hall raised $150,000.00 in 1920's American dollars to publish it according to his vision. The printing of The Secret Teachings was a collaboration between Hall and book designer John Henry Nash at the time known for his work as a printer for the Vatican. Rather than ancient knowledge rotting in musty old libraries, this book was to be a monument to commemorate centuries of esoteric wisdom. At the heart of Hall's research and work he was a teacher.
Although I've never read any of Hall's books and am coming into him through this biography, one gets the impression that his writing was inspiring to people at the time. Hall was prolific, turning out pamphlets, self-publishing periodicals, authoring many books, and founding the Philosophical Society. A lifelong Rosicrucian and 33rd degree Mason his spiritual authority was legitimate. It was the Philosophical Research Society (PRS) that was his legacy. It still exists today.
Here's an episode of Bill Cooper's Hour of the Time radio series "Mystery Babylon" featuring Cooper reading from Hall's writings about "The Great Work…"
Please subscribe to my YouTube channel where I archive all of the videos I curate at Insomnia. Click here to check out more Counter Culture posts.