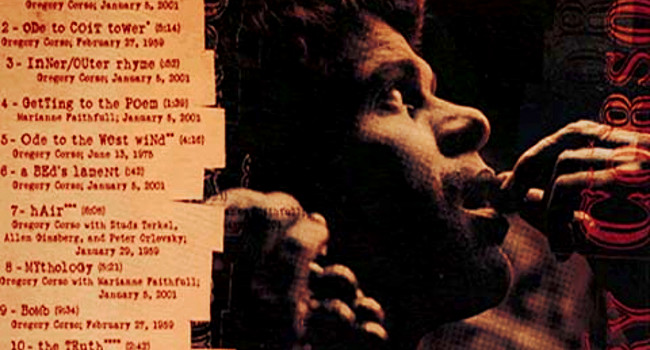 Paris Records has produced a library of Beat recordings featuring the words of William S Burroughs, Ed Sanders, Hunter Thompson, Terry Southern and more. Here's a bit from their website…
As of this writing, Paris Records is almost 21 yrs old. With 5 new releases for 2006-2007, the impossible history of Paris records is about to begin a new chapter –and so a new "about us" should be added. The label as it is today really owes its existence to my dear friend Joseph Tornabene. Joel made the connection between my early multi-artist / spoken word albums and Hal Willner's wide-open "tribute" style, and arranged a meeting between us on Labor day weekend 1986. I vividly remember being so scared I could barely speak. Anyway, that meeting with Hal, like my chance meeting with Joel in 1980, changed my life, and believe it or not, made many of my wildest dreams come true.
I recently discovered that the label has its own YouTube channel where one their Gregory Corso releases can be streamed via playlist. Here are some of the production notes from Die On Me:
Die On Me
Gregory Corso
With
Marianne Faithfull
Allen Ginsberg
Studs Terkel
Peter Orlovsky
Liza Richardson
Produced by
Hal Willner
Marianne Faithfull
Executive Producer
Michael Minzer
Associate Producer
Rani Singh
Produced by Hal Willner and Marianne Faithfull
Associate Producer: Rani Singh
Executive Producer: Michael Minzer
All poems written by Gregory Corso, except "Ode to The West Wind" by Shelley

Music, editing and mixing at The Village; North Hollywood, CA and The Lodge; New York, NY
Music by Hal Willner
Laurie Anderson – second violin on "As Rome Burned" (courtesy of Nonesuch Records)
Edited by Eric Liljestrand, Sara Register, & Jeff Robinette
Mixed by Eric Liljestrand / Additional mixing and mastering supervision; Martin Brumbach
Mastered at The Lodge, N.Y. by Emily Lazar
Art Direction & Design: Jeff Chenault
Michael Minzer and I had been trying to produce a Gregory Corso album for years. For our series that featured Allen Ginsberg and William Burroughs, as well as Kathy Acker and Terry Southern, Gregory was someone we needed to include – besides, he was always my favorite poet to listen to. He had a wonderful, romantic, and beautiful voice; his readings never lost the sense of the unexpected and dangerous.
Gregory was interested in doing the record, and had many musical ideas as well – mostly classical. but for many reasons, the project never got scheduled. Then one day in the spring of '99 Michael called and was very anxious. He didn't know why but he felt in his gut that something was going on with Gregory and that we had to record him immediately. I called Gregory's number for a few days with no luck. With a little probing, I was told that Gregory had advanced prostate cancer and was not expected to live much longer. Rani Singh and I visited him on Horatio Street, where he had been living with Roger and Irvyne Richards for a number of years. It was a hard visit. Gregory was unable to talk and his eyes were black. Two of his children, Sheri and Max, were there and everyone in the room took turns sitting with Gregory, holding his hand.
Honestly, I was always a bit afraid of Gregory. I felt intellectually inferior to him in knowledge and ways of the world – and that he would call me on it. But he really was always very kind to me, though I got yelled at a few times (all for good reason). It was very sad that day on Horatio Street, and I felt I had to help in some way, so I returned once more with a ghetto blaster and a stack of Mahler symphonies and Wagner's "Ring Cycle" which I knew Gregory loved to hear.
A few weeks later, Marianne Faithfull was in town. I had talked to her right after I saw Gregory, suggesting that she see him. They had known each other since the sixties and had a sort of unconsummated love/friendship…. The morning we went over, I was told that Gregory had a miraculous remission and was alert, talking, and looking good…. Incredibly it was true, and the visit with Marianne was utterly delightful. In the middle of the visit, Gregory turned to me and asked me, "When are we going to do my record?" A bit shocked, I told him whenever he wished. Sheri suggested recording him at her home in Minneapolis, where she was planning to bring Gregory to take care of him. Watching Gregory and Marianne talk old times, poetry, literature, and of course sex – and how Gregory seemed to respond to her, I saw the record in front of me. That involved talking Marianne into producing the recording with me – which meant going to Minneapolis. She immediately said, "Of course – we have to!"
Here's Gregory Corso's Die On Me…
Stay Awake!
Please subscribe to my YouTube channel where I archive all of the videos I curate at Insomnia. Click here to check out more Counter Culture posts.