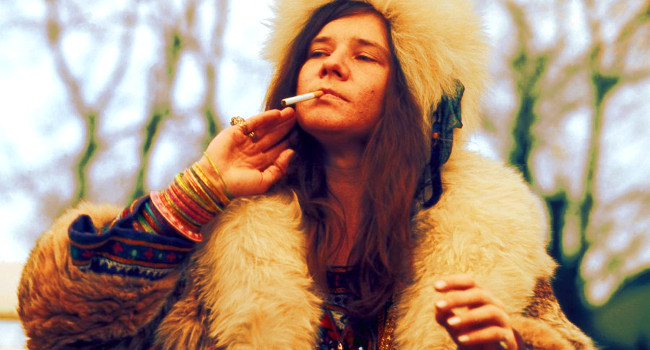 45 years ago, October 4, 1970, Janis Joplin died of an overdose in a Hollywood hotel. On May 2, 20016 I published a review of the then-new Janis: Little Girl Blue DVD in The Contributor. On the anniversary of Joplin's death, here's another look at that review. The film is currently streaming on Netflix…
Academy Award-nominated documentary filmmaker Amy Berg has made hard-hitting exposés about the Catholic Church's child sex abuse scandal (Deliver Us From Evil, 2006), Warren Jeffs and the Fundamentalist Church of Jesus Christ of Latter-Day Saints' child sex abuse scandal (Prophet's Prey, 2015) as well as the struggles of the wrongly imprisoned West Memphis Three (West of Memphis, 2012). Janis: Little Girl Blue (2015) is about a less-traumatic subject, but this story about the life and legacy of 1960s icon Janis Joplin paints a more intimate portrait than most rock docs, telling more about the girl Joplin was and the woman she became than about the star we still know. The acclaimed movie debuted at the Venice Film Festival in 2015 and a new DVD will be released Friday, May 6.
In the film's introduction Joplin hams it up for the camera: she rolls on the floor laughing; she stops to have her picture taken wearing a fur coat and a matching hat; she leads her band through an incendiary reading of "Tell Mama" which astute students of music films will recognize from the 2003 Canadian-rock-festival-on-rails-documentary, Festival Express. When the soundtrack isn't shuttering through the frenzy of Joplin's distinctive, scratchy soul wailing, it hums with the heartfelt narration of contemporary singer/songwriter Cat Power reading from Joplin's letters, relating the singer's thoughts about talent and ambition:
"I've been looking around and I've noticed something. After you reach a certain level of talent – and quite a few have that talent – the deciding factor is ambition or, as I see it, how much you really need, need to be loved and need to be proud of yourself. And I guess that's what ambition is. It's not all a depraved quest for position or money. Maybe it's for love? Lots of love, ha, Janis."
Janis Joplin was born in 1943 in Port Arthur, Texas. The film portrays the Lone Star version of an idyllic small town upbringing, but makes it clear that Janis never fit in and never really wanted to. She gained weight and her skin broke out as she grew into a young woman. When she saw that she could get attention for acting out and rocking the boat in conservative Port Arthur she couldn't resist – Janis wore tight skirts and got a "beatnik" haircut, she picked fights and started singing along with records by folk blues muse Odetta. Joplin briefly attended the University of Texas in Austin where she dumbfounded the folk music community with her amazing voice, but still found herself ridiculed by fraternity bullies for her odd clothes and bad skin. It wasn't until she lit out for San Francisco that Janis found a community of freaks that recognized her as one of their own.
Most of the interviews here are with family and friends that knew the singer well, and most of the insights reflect that intimacy. Likewise, the narrating of Joplin's letters tell us how much she valued those closest to her, and how much she needed their support and encouragement. The device of narrated letters might have become distracting, but Berg sprinkles the readings deliberately and effectively throughout, and while Cat Power's Southeastern drawl isn't exactly Texan, her careful, thoughtful readings bring notes of grace and warmth to the story of Joplin's often painful, lonely and chaotic life.
Of course, Little Girl is hazy with weed, soaked in alcohol, and tripping on batches of vintage LSD. The singer died from a heroin overdose on Oct. 4, 1970, and this documentary reveals that, for Joplin, drinks and drugs were a means of fitting-in with her new friends as well as a means to numb the sense of alienation that followed her despite her celebrated singing and subsequent fame. It's also clear that fame – especially the adulation received at her concert performances – was just as powerful for Joplin as her Southern Comfort and her syringe.
Fans of Joplin's music might feel short-changed here – outside of detailing Joplin's experiences at The Monterey International Pop Music Festival in 1967 there's very little examination of Joplin's songs or her records. Berg is thoroughly focused on Joplin's personal experience of her life, her talent, and her fame, and perhaps it's fitting that this fascinating film – like its furious subject – seems to end too soon.
Here's Janis months before her death…
Stay Awake!
Please subscribe to my YouTube channel where I archive all of the videos I curate at Insomnia. Click here to check out more Music posts.