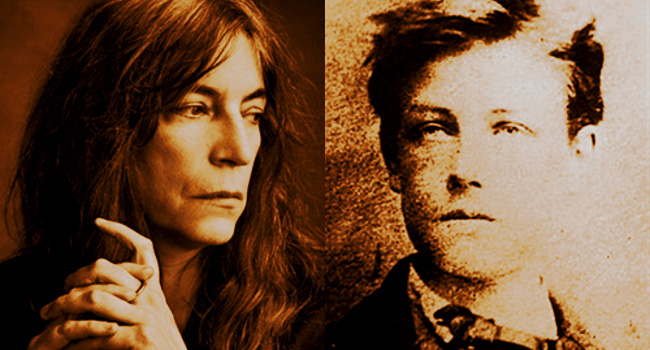 So I found an interesting article at Please Kill Me yesterday. It seems that poet/rocker Patti Smith may have bought the childhood home of French poet Arthur Rimbaud. Along with Jim Morrison and William S. Burroughs, Rimbaud is one of Smith's great heroes — her song "Land" from her classic album, Horses, features the singalong lines "Go, Rimbaud!" Here's the word about Smith's recent purchase, and the neverending allure of Arthur Rimbaud…
Perhaps no performer in rock music has been more influenced by Rimbaud than Patti Smith – early on with her own poem "Rimbaud Dead" from "Babel" (1978), and in her music – the song "Land" on her first album "Horses" (1975) – her incandescent chanting of "Go Rimbaud"…
In 1976, Smith told Rolling Stone, "I saw the cover of 'Illuminations' with Rimbaud's face, y'know, he looked so cool, just like Bob Dylan. So Rimbaud became my favorite poet."
In an interview with Thurston Moore in BOMB Magazine in 1996, Smith talked about her youthful influences: "I had devoted so much of my girlish daydreams to Rimbaud. Rimbaud was like my boyfriend."
It came as no surprise then, when I read in Architectural Digest that Patti Smith recently purchased "a reassembled version" of Arthur Rimbaud's childhood home in Roche, a small French village near the Belgian border. Like Bob Dylan (who famously went on a public tour of John Lennon's boyhood home and in 2008, showed up by himself at Neil Young's childhood home in Winnipeg, asking to see Neil's old bedroom), Patti Smith has an affinity for visiting the important places of the heroes and inspirational figures in her life. It was at his farmhouse in Roche where Rimbaud spent much of his childhood at age 19, wrote his most famous work, "A Season In Hell."
The farmhouse has a long history. According to the 1987 biography "Rimbaud" by Pierre Petitfil, the farmhouse was acquired in 1789 by the poet's great-grandfather. In 1918, it was destroyed by the Germans in World War I. It was rebuilt in 1933, only to be destroyed again in 1940, during World War II. The current farmhouse is said to be in a state of reconstruction.
Celebrating National Poetry Month, here's Smith talking about Rimbaud's last written work, and offering a recitation of her own "People Have the Power"…
Stay Awake!
Please subscribe to my YouTube channel where I archive all of the videos I curate at Insomnia. Click here to check out more book posts.