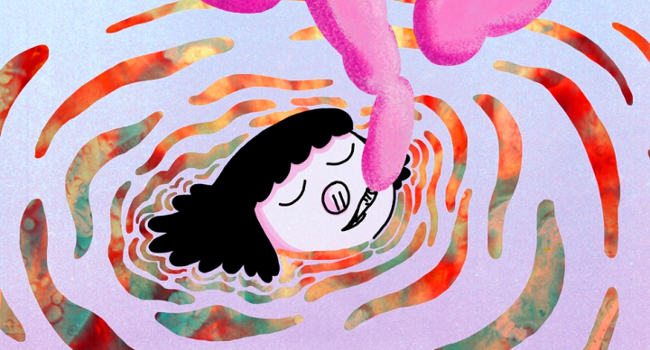 Last night I hit the Nashville Film Festival for their 8 P.M. screening of the Frayed Shorts program. Every year the Frayed Shorts selections celebrate abbreviated gross-outs, small scares, small sized celebrations of sex, and tiny terrors. After a go for broke introduction by Jason Shawhan — is anyone better? — we were off and running into a wide variety of films that elicited very different responses from the audience.
"The Call of Charlie" is a "fish" out of water tale that re-imagines H.P. Lovecraft's Cthulhu as a mid-level office drone who needs to get set up on blind dates. The makeup effects are pretty good in this one and the mix of ridiculous humor and bloody gore is pretty perfect. Lovecraft has proven to be challenging to translate to screen, but this rom-com works much better than most adaptations precisely because of its irreverent take on Lovecraft's mythos.
"Pearlies" turns the Tooth Fairy story into a horror tale about an evil little tooth-collecting German rat. The effects here are really well done, and there's even a Poltergeist reference for the keen-eyed. If you like monster movies and scary fairy tales this one really delivered.
"Summer's Puke is Winter's Delight" by Sawako Kabuki is a crudely rendered pornographic cartoon set to a soundtrack of the sound of people throwing up. It made me so queasy I had to plug my ears as best I could. I wouldn't want to watch this one again, but I have to believe this was exactly the effect the director was hoping for. Bravo.
Renata Gasiorowska's "Pussy" is a simple animated story about a single girl at home trying to masturbate. She experiences a few funny fails before the titular part detaches from her body and begins running around her apartment building. After a bit of slapstick chaos the two come to an agreement: the girl writhes on the floor while her pussy runs all over the house rubbing up against candle sticks, rolling around in the soft bristles of a brush, and running beneath the tassels hanging from the edge of some furniture upholstery. The best part of the film is its chromatic, psychedelic climax. Of course, this is one Frayed Short with a happy ending.
Please subscribe to my YouTube channel where I archive all of the videos I curate at Insomnia. Click here to check out more Cinema posts.