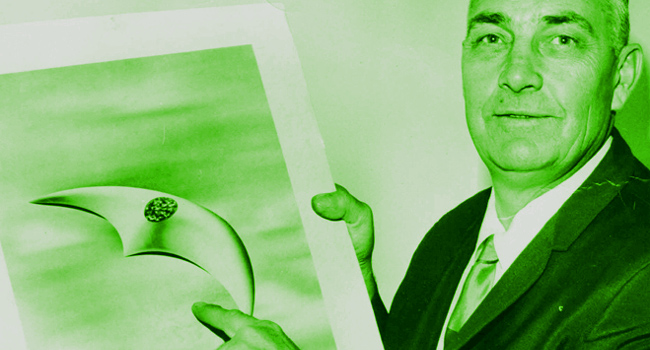 So I wanted to reflect on a paranormal anniversary for this post before I realized there was a current story that dovetailed perfectly with it: 2017 marks the 70th anniversary of Kenneth Arnold's UFO sighting which marks the beginning of the modern UFO era. Right on time, pranksters are calling up Donald Trump's new "alien" reporting hotline to report visitations from beyond the earth. Here's the scoop from ATI…
On Thursday, the BBC reported that Twitter users had started a campaign to prank call the offices of VOICE, an arm of the Department of Homeland Security meant to "serve the needs of crime victims and their families who have been impacted by crimes committed by removable criminal aliens."
A signature piece of VOICE, which Trump authorized via a January executive order and which opened on Wednesday, is the hotline it makes available for the aforementioned victims.
On Twitter, users encouraged others to report "alien encounters" to VOICE immediately, but probably not the kind of aliens that VOICE had in mind.
As Stephen Tatton tweeted, "Just called in an alien attack from Planet Voltron."
Meanwhile, "Carlos in California" tweeted that the criminal alien he sighted appeared to be in poor health. "Called Trump's 'VOICE' hotline for people to report 'illegal aliens'," he wrote. "I reported seeing a bloated orange humanoid."
According to Buzzfeed News, enough people actually acted on invitations like these to impact the affairs of the U.S. Immigration and Customs Enforcement (ICE) agency, whose representative was not too pleased about the onslaught of trolling.
"There are certainly more constructive ways to make one's opinions heard than to prevent legitimate victims of crime from receiving the information and resources they seek because the lines are tied up by hoax callers," a spokesperson told Buzzfeed News.

Here's a cool short video about the start of it all back in 1947
Please subscribe to my YouTube channel where I archive all of the videos I curate at Insomnia. Click here to check out more Cinema posts.