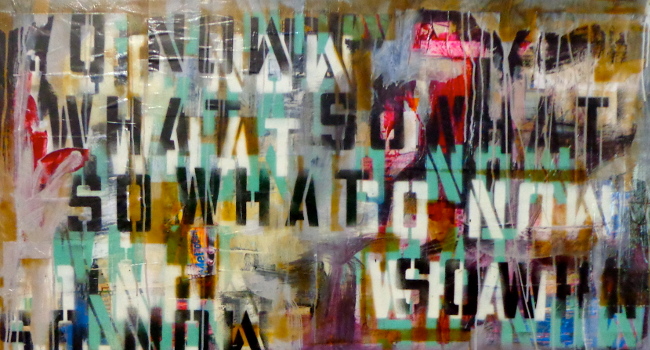 Usually on Fridays I just post something from my blog's archive, and I'll do that today as well, but first this:
I write a monthly column for the Nashville Scene that previews the First Saturday art events that happen at two different gallery crawls all over the city. I don't get a ton of words to cover everything so I have to pick and choose. This month was extra tough as we're going to print early to compensate for the holiday weekend. As a result some interesting looking shows didn't make the cut if only for length or rushing, and I wanted to mention one of them here because it looks like a cool mix of poetry and images that speaks to the overlap we've already been seeing between Nashville's literary and visual arts communities. My own Pikes Project mixes photography, essays and poetry so a show that combines verses with visuals automatically catches me eye and my ear.
Here's the word on Listen:
CONVERGE is pleased to present LISTEN, a provocative group show of text based artwork curated by Alysha Irisari Malo. LISTEN celebrates the expression of the written word in the visual arts, exploring various media including painting, printmaking, installation, mixed media, and fiber art. Participating artists include Jane Braddock (represented by Tinney Contemporary), Briena Harmening, Alysha Irisari Malo, and Cynthia Marsh. The show runs from Saturday, May 6th through Sunday, June 4th, 2017, at the SNAP (South Nashville Action People) Building, 1224 Martin Street, Nashville, TN 37203. The second floor will have artwork installed for the duration of the show, while the first floor will have artwork installed for pop-up events during the Opening and Closing Reception weekends. These events coincide with the monthly Arts & Music at Wedgewood-Houston crawl and are free and open to the public. The Closing Reception for LISTEN will be held on Saturday, June 3rd, from 6:00 to 10:00 pm.
CONVERGE is a conscious collective of creative individuals interested in collaborative projects and community outreach, initiated by the husband and wife team, architectural designer Eric Malo and artist and poet Alysha Irisari Malo. The group conceives and realizes project-based art and design, lifestyle, cultural, and community programming in Wedgewood-Houston. CONVERGE currently hosts a series of neighborhood urban design workshops in Wedgewood-Houston, and is excited to have LISTEN as its inaugural art crawl event.
Find out more about this exhibition on their Facebook event page.
Now here is a poetic From the Archives Friday post featuring poet Michael McClure and a caged lion in a weird performance that I'm thinking about as a kind of farewell here at the last days of The Greatest Show on Earth…
I've written about 2nd generation Beat poet Michael McClure on this here slate of light before. McClure joined up with Ginsberg and Kerouac when the New Yorkers made their way to San Fransisco, setting off a poetry renaissance and a worldwide youth movement upon arrival.
It's easy to look back at the '60′s with rainbow-colored glasses, but that's no excuse to. A lot of wrongheadedness and naivety ran much of the '60s counterculture off the rails. Of course, a lot of good art, music and ideas came from that time as well.
Sometimes, weird bits of 60′s countercultural expression that still turn up from that time seem just as absurd today as they must have 50 years ago. Here, McClure is interviewed before stopping at a zoo to read poetry to a lion.

Stay awake,
Joe Nolan