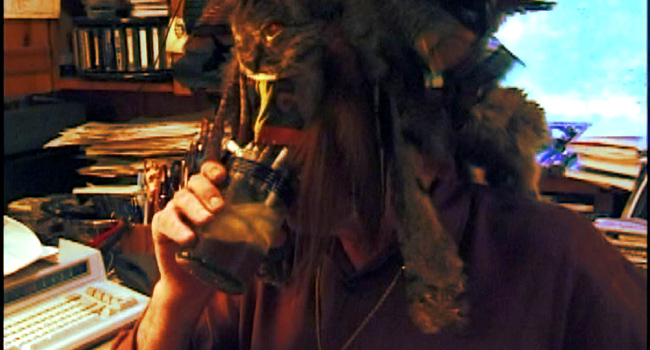 Two years before Hunter S. Thompson took his own life in 2005 his Woody Creek, Colorado neighbor Wayne Ewing edited together years of video and film footage into a days-in-the-life-style documentary that captured HST drunk, drunk on stage, drugged, in trouble with the cops, visiting his home state of Kentucky, and trying to get Fear and Loathing in Las Vegas made into a film. Here's Swampland with the word…
Breakfast With Hunter contains classic footage from Thompson's Woody Creek, Colorado, ranch he calls Owl Farm. Guest appearances include Johnny Depp, Benecio Del Toro, Harry Dean Stanton, Terry Gilliam, Laila Nabulsi, John Cusack, and the late Warren Zevon.
Scenes with English artist Ralph Steadman whose paintings accompany many of Thompson's writings prove interesting. Another scene details Thompson ambushing Rolling Stone mogul Jann Wenner with a fire extinguisher in his posh New York City office. Other footage features HST day in his hometown of Louisville, Kentucky (also Depp's hometown), as well as a stage appearance at Depp's Viper Room.
The film chronicles the 25th Anniversary of Thompson's classic book, Fear and Loathing In Las Vegas, including early stages for production, filming, and the premiere of the 1998 movie. A confrontation in Thompson's kitchen erupts with a British writer over the Fear & Loathing script, which personifies Thompson's spirit.
Here's Breakfast with Hunter…
Please subscribe to my YouTube channel where I archive all of the videos I curate at Insomnia. Click here to check out more book posts.