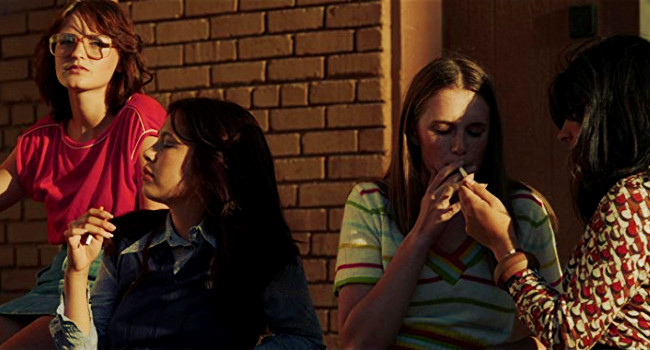 If you love experimental cinema and you live in Nashville then you're in luck: the second annual Defy Film Fest starts on Friday night and the event includes screenings of 64 experimental films through Saturday. Here's a bit from my Critics' Pick in this week's Nashville Scene…
I was only able to screen a couple of films ahead of the fest. Here are a couple of capsule reviews of two selections I definitely recommend…
This year's program boasts seven features, including MA, which sets a modern-day version of the Nativity in the American Southwest, and Midwestern teenage 1970s dramedy Knowing Nothing Cold. The fest's 57 shorts include the Appalachian horror flick "Blood Letting," the culty creepfest "Color Field," and the conspiracy thriller "Appellation." Don't miss the silent events or the looping projection of the metaphysical science-fiction film Hermetica Komhata HK320 in 615's back hall. Visit defyfilmfestival.com for a full schedule and tickets.
Knowing Nothing Cold reminded me of Richard Linklater's films like Dazed and Confused and Everybody Wants Some — the movie follows the daily lives of a group of Midwestern teenagers in the 1970′s. The kids smoke and eat candy and steal records and get high. The boys get in fights and the girls talk about how dumb they are even if they're really cute. The one way this movie differs from Linklater's retro teen flicks is that writer/director Jeff Kao's screenplay only has about a quarter of the words Linklater packs into his chatty films. Knowing Nothing Cold is an impressionistic film that slowly unfolds in a series of loosely connected scenes that don't constitute a typical forward driving plot. This is the kind of film formula that can only work with interesting characters brought to life with great performances. Luckily, for Knowing Nothing Cold's audiences Kao and his cast fill this film with scene after scene of sincere, affecting, haunting moments.
Appellation is set in Britain decades in the future. A super bug has decimated crops and only commercial agriculture is allowed in the wake of the tragedy — small organic farmers use secret grow rooms to cultivate healthy fruits and vegetables even though this makes them terrorists in the eyes of the government agency charged with hunting them down. Appellation is like a 10-minute-long Black Mirror episode, and even though the short ultimately feels like the first few scenes in a much longer film, Appellation left me wanting to see that film.
I'll be heading over on Friday afternoon to pick up some laminates and prepare myself for a weekend of weird and wonderful films. Hope to see you there!
Please subscribe to my YouTube channel where I archive all of the videos I curate at Insomnia. Click here to check out more Cinema posts