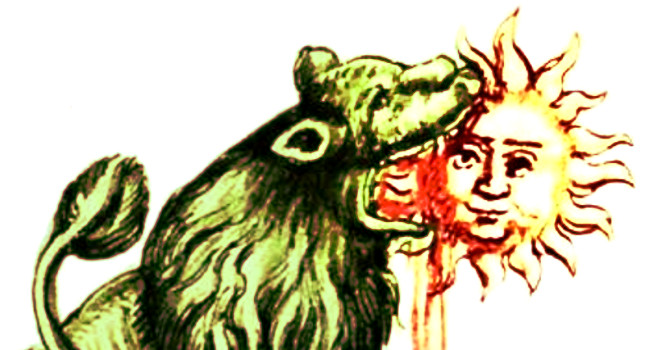 If you live in Nashville I know you're excited about the total solar eclipse we'll experience here on Monday afternoon. I'm watching the programs on a science channel and their countdown just dropped past 13 hours while I was editing the image I'm including with this post. The lion swallowing the sun seemed a good look for a solar eclipse at the end of Leo's reign as midsummer's most fiery celestial sign. I hope you have your glasses, snacks, drinks and hangout ready. Don't forget your deepest hopes, your most potent magick, your furthest reaching intentions, and your brightest dreams on this darkest day of the season. Don't forget your music.
I've been happy to find my tunes becoming a part of the city's celebration of this solar event: my song "Night and Day" was included in the Spotify playlist that Ashley Heeney created for The Contributor newspaper in Nashville. The song also popped up on Saturday's solar eclipse-themed episode of the Double Shot with Joe & Sue show on Nashville's treasured community radio station, WXNA.
Celebrating along with all of you, here's an impressionistic curating of eclipse music from my SoundCloud:
This is a pretty high energy mix so maybe this is a good spend-the-morning-getting-ready-for-the-eclipse-playlist before you settle-in after lunch and crank up the Floyd.
Please subscribe to my YouTube channel where I archive all of the videos I curate at Insomnia. Click here to check out more Counter Culture posts.