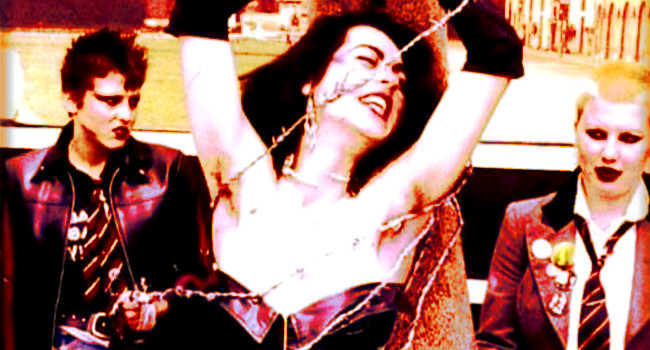 This year we celebrate the 75th birthday of British filmmaker Derek Jarman. Jarman was born on January 31, 1942. I'm always discovering and then keeping tabs on these timely anniversaries of our countercultural forebears, and I'm happy to highlight this one even if I'm getting to it about 7 months too late. The good news is that now we've got 4 more months to celebrate the groundbreaking filmmaker and his intense, chromatic, radical cinema. Jarman died of an AIDS-related illness in London in 1994, but not before creating a body of work that has only grown its audience since the filmmaker's death.
Here are Open Culture's words on Jarman's 1978 punk rock film, Jubilee…
Derek Jarman was too old and too accomplished to be a punk. By 1977, the openly gay filmmaker and artist was already 36 and had an impressive CV that included doing set design for Ken Russell's The Devils and directing Sebastiane, a landmark in gay cinema, notable for not only its frank depiction of the male body but also for its dialogue which was entirely in Latin. Nonetheless, Jarman gathered together notables from London's burgeoning punk scene, including a young, lithe Adam Ant, to create Jubilee –the first and, arguably best, punk movie ever. You can watch it above.
The plot, as such, centers on Queen Elizabeth I who, with the help of court occultist John Dee (played by Rocky Horror Picture Show's Richard O'Brien), sees her land 400 years into the future. It's a Britain filled with garbage and plagued with crime. Queen Elizabeth II, for instance, was killed in a mugging. As Queen Elizabeth I wanders around the wreckage of the British Empire, she encounters a bunch of leather-clad toughs including Amyl Nitrite (played by Malcolm McLaren protégé Jordan), Crabs (Little Nell, also from Rocky Horror) and Mad (Toyah Willcox, who would later go on to delight a generation of toddlers by voicing The Teletubbies). The highpoint of the movie is, without a doubt, is when Jordan performs a risqué dance to a glammed up version of Rule Britannia.
Jarman tapped into the same feelings of anger, disillusionment, and nihilism that the Sex Pistols articulated. As Jarman told The Guardian in 1978, "We have now seen all established authority, all political systems, fail to provide any solution – they no longer ring true." Jubilee feels like a John Waters movie without the gross-out gags. A Paul Morrissey movie but with a clear sense of political purpose. It's giddy, uninhibited, violent and occasionally quite disturbing.
Here's Jarman's Jubilee…
Please subscribe to my YouTube channel where I archive all of the videos I curate at Insomnia. Click here to check out more Cinema posts