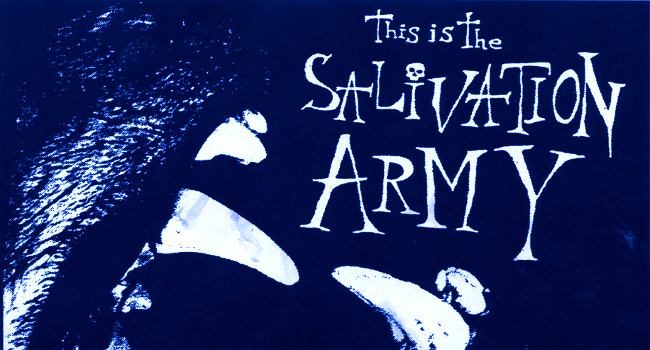 Feeling a bit lost in the desert recently but not sure if I'm Christ in the desert or just a fisherman starving in a shanty, but it's been nothing but Willem Dafoe weather around here, and even though my blog can't keep its senses together it's insisting upon itself. Here's another very odd entry that I thought of after seeing a band name that reminded me of the 1990′s zine This is the Salivation Army…
As punk had once turned to queer culture for its social-sexual strategies, now it was returning the favor. The blinkered gay and lesbian mainstream in the mid-90s felt neither inclusive nor progressive, or even particularly political, suffering as it was from what can only be called battle fatigue. Under siege for so long, the scene seemed to want to return to some kind of clement version of a pre-AIDS heyday where everyone could listen to mediocre dance music in the company of others who wanted to conform to the new gay normal. If the world was fair, the likes of Queer Nation, Outrage and Gran Fury would've thrived, but there was less room now for the libertine weirdos and troublemakers who might (or might not) have caused all of the chaos in the first place. Eventually two Toronto-based punks, G.B. Jones and Bruce LaBruce, would change everything by launching an incendiary campaign through zines, music and manifestoes, to call out the gays on their conservatism and to make the supposedly open-minded punks put their inclusivity to the test. Following their lead, queercore bands, zines and record labels – like Matt Wobensmith's Outpunk – flourished. For me personally, as a twenty-year old punk recently transplanted back in Toronto in 1993 after a year of living hand-to-mouth in London, discovering that I could reconcile my music, my politics and my sexuality was a revelation. Already ideologically hopped-up on publications like RE:SEARCH, RAPID EYE and HOMOCULT, I'd also had a fortuitous meeting with queer saint Derek Jarman shortly before my return who clinched for me the idea that there was more to one's sexuality than simply who you fucked. Jarman's idea of queerness was that it was a blessing of sorts, a radiant kind of permission. It reinforced for me what I'd always felt: that being queer meant that you could slough off a past, an ideology and a trajectory, that's not yours to inherit and keep on forging paths that are as yet unimagined. And if that wasn't punk, I didn't know what was.
Graduating from art school in 1996, and with G.B. Jones' help, I shot the world's first queer punk documentary. More of a polemic than a who's-who, QUEERCORE: A PUNK-U-MENTARY was an attempt to unify some of the politics and positions of the company of outcasts I was keeping. Combining these ideas with some stark pseudo-military aesthetics copped from postpunk bands like Psychic TV and New Model Army, I also started publishing my own zine, THIS IS THE SALiVATION ARMY. Rejecting salvation as a nebulous, ludicrous concept, *salivation* was where it was at; always on the tip of your tongue, something your body knows. And in the wake of the full on body-terror that followed AIDS, this kind of fluidic moniker was about more than just spit. Branding itself as a the mouthpiece of a full-fledged "queer pagan punk" movement with hundreds of members and everybody fucking each other, it didn't seem useful, or poetically true, to tell readers that in reality it was just me with a gluestick, alone at 3am in an all-night photocopy shop. Another lesson learned from punk: print the legend. Aside from the hyperbole, the zine distinguished itself by trying to be an honest platform to discuss and celebrate sexuality in all its forms, and to this day it's a point of pride to know that my readership wasn't solely made up of horny homocore boys, but an equal amount of women, bi and straight readers, too.
Eventually the zine spawned a film of the same name in 2002 that would try to keep the myths alive alongside the truth. The fact that the zine and the film still get unearthed says something, to me at least, about its view of sexuality as something innately powerful, and the punk ethos at its core still gives the go-ahead to explore in the company of like-minded others; being part of an ongoing, swelling history is always better than being part of something unique. When punk first reared its head in the 70s, decrying sex as squelchy and boring was a genius way of disarming the shame-makers, the rockers and the doting hippies, showing a preference instead for anger and action over getting your rocks off and calling it a weekend. In the 90s however the slogan had shifted to take aim at the puritans and fear-mongers with a distinctly feminist pitch. The patches on people's jackets were daubed with slogans like: You Say Don't Fuck, We Say Fuck You!, Silence = Death, and Not Gay As In Happy, But Queer As In Fuck You! On the heels of this declaration that queers weren't the filthy creatures that the religious zealots and right wing would have you believe, another reinvigoration of sexual awareness came in the form of a wave of punk-made porn. It's almost impossible to imagine now, but in the pre-selfie, pre-internet world, occupying pornography was a radical act. Like industrial musician and performance artist Cosey Fanni Tutti's astutely aware ownership of her participation in pornography – usurping the male-made-for-male-gaze structure – the queercore scene wrestled its bodies away from the overly muscled uniformity of the Aryan sideshow freaks that populated gay porn and made images of their own. Like Warholian superstars, Jones' and LaBruce's zines and films launched a new blue generation and everyone, myself included, loaned their time and their bodies to one another in the pursuit of a new kind of radicalism. Suddenly you weren't jerking off to the too perfect torsos in mainstream porn, instead you could find insanely erotic homegrown smut to get off on that also served the purpose of smashing the stereotypes purveyed by the other mags. The empowerment had positive effects on the models, too. Starring in a couple of centerfolds and films, I found that the lowly view I'd held of my weedy twenty-year old body started to vanish. Better yet, as I got behind the camera I learned to make other models snap out of their narrow views of what turned people on as we added our own brands of eroticism to the collective pool.

Here's a bit about the film version of the zine…
This Is the Salivation Army was a 'queer pagan punk' zine, produced by artist Scott Treleaven from 1996-1999. The film tracks the rise and demise of Treleaven's publication and the strange cult it spawned:
"Blurrily combining evocative enactments of cult-like activities with genuine evidence from the project's epoch, the film lyrically represents The Salivation Army as a brief movement in history—both inspirationally realized and pointedly imaginary. As Treleaven explained in the film's voiceover, the best thing for The Salivation Army was not to be unique, but to be part of an ongoing history. These historical inspirations are unmistakable—from the cult musician/performer Genesis Breyer P-Orridge and writers William Burroughs and Brion Gysin to the most evocative influence: late-radical-queer-punk filmmaker Derek Jarman." — Matt Wolf ('Wild Combination', 'Teenage')
Here's the film which is celebrating it's 15th birthday in 2017. Happy New Year, everybody.
THE SALiVATION ARMY (Scott Treleaven, 2002) from S T on Vimeo.
Please subscribe to my YouTube channel where I archive all of the videos I curate at Insomnia. Click here to check out more Cinema posts