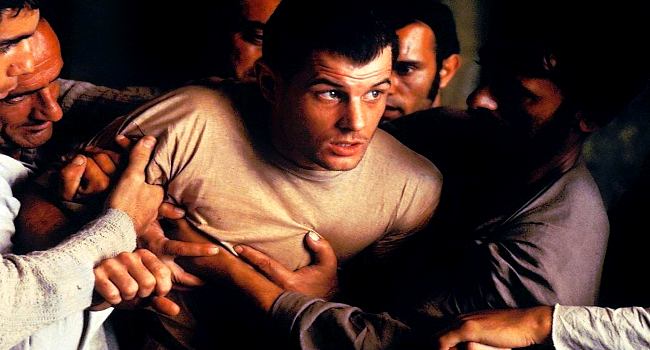 The high point of cinema so far has been the American films made between the late 1960s and the early 1980s. Roughly speaking, these dates constitute the New Hollywood period when failing studios turned to young, maverick directors influenced by the anarchistic re-making of genre cinema by European directors like Jean-Luc Godard and Francois Truffaut. Movies like Easy Rider, Bonnie and Clyde and Raging Bull are emblematic of this period of high art on the big screen where films about bikers, boxers and beautiful killers defied expectations while often also bringing boffo box office.
Another great American flick of the 1970′s is Alan Parker's Midnight Express. Parker is a Brit, but the film was distributed by Columbia and written by the great Oliver Stone who won a screenwriting Oscar for adapting Billy Hayes' memoir of getting arrested for hashish smuggling and being locked-up in a Turkish prison. Stone's script is a brutal document and Parker puts his audience in Billy's skin behind bars and bereft of hope. Brad Davis is unforgettable as Billy and while the film was shot in a Maltese fort the depictions of the cruelty of Turkish justice are so savage and real-seeming that Midnight Express was screened as a cautionary tale for U.S. Navy sailors visiting Turkey for years after the film's release.
Celebrating 40 years of Midnight Express — and its amazing Giorgio Moroder soundtrack — here's an episode of Locked Up Abroad featuring the real Billy Hayes and the harrowing true story of his time in Turkey…
Please subscribe to my YouTube channel where I archive all of the videos I curate at Insomnia. Click here to check out more Cinema posts.