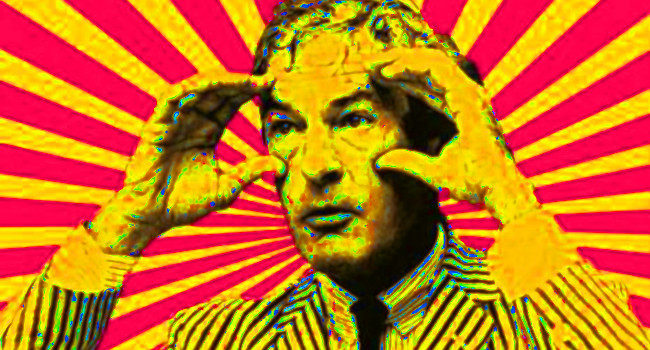 If you follow me on Twitter you've probably come across some of my observations regarding the so-called "culturetain wars" everybody is sure we're in the middle of here in America. Certainly there is stress and heat in relations between conservative and progressive — not necessarily politically speaking — folk, but does anybody really believe America is on the verge of an armed civil war? Not likely. I'd argue that the internal threats to this country were far worse during the W presidency, and a new book about Timothy Leary and Richard Nixon reminds readers that the early 1970s were flat-out crazy times even compared to the state of the states today. Unplug from mainstream media and you will quickly realize that they're the ones who profit — literally — from fomenting a culture of hate, fear and division. We have real problems in America in 2018, but we've seen far worse even during my lifetime.
The Most Dangerous Man in America tells the story of Leary tuning in, turning on and tuning out into a life on the run from the law while it simultaneously documents Nixon's fall into paranoia and self-destruction. Here's a taste from the book review on Reason…
For those contemplating exactly how out of control America was then compared to now, the most pertinent evidence is the book's compendium of a near-constant series of terror bombings.
The authors describe explosions in New York at National Guard headquarters, police headquarters, and three Manhattan banks; bombings in San Francisco's Presidio and at a church during a police officer's funeral; Molotov cocktails tossed in Wisconsin city halls and Connecticut ROTC offices; post offices, courthouses, and draft boards lit up across the country; 81 sticks of dynamite found at a Kansas university; and rocks, bottles, and eggs tossed directly at Nixon and California Gov. Ronald Reagan.
According to Bryan Burrough's 2015 book Days of Rage (Penguin Press), the U.S. suffered nearly five bombings every day during one 18-month period in 1971–72. Hijackings had become so common—33 in 1969 alone—that the president's family was barred from flying commercial.

Leary's overseas spree (where he found himself continually squeezed as a cash cow by those he relied on) dovetailed with America's cultural and political chaos. By January 1973, when the feds decided they weren't going to let aggravating legal niceties hold them back and just kidnapped him in Afghanistan, the violence that had inspired Nixon to prioritize his capture was winding down.
But for a while there, it was bad. The modern American populace would likely die of head-exploding embolisms if even a quarter of that sort of madness were common today.
Here's a BBC doc about Leary and his work…
Please subscribe to my YouTube channel where I archive all of the videos I curate at Insomnia. Click here to check out more occult posts.