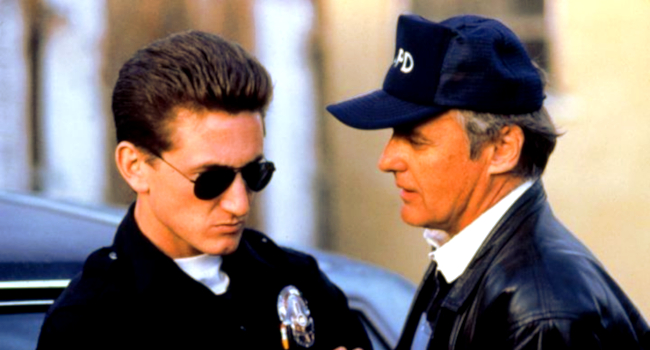 In the 1950s and 1960s Dennis Hopper was a young actor appearing in classic films like Rebel Without a Cause, Giant and The Sons of Katie Elder. But by the late 1960s Hopper was tired of directors telling him what to do. He felt like he knew better and he'd prove it if he could get behind the camera. Hopper got his shot with Easy Rider and he made good on his threats, transmuting a no-budget biker flick into an iconic cinematic statement of youthful revolution and kick-starting the greatest period of filmmaking the world has ever seen. But by the time Hopper followed up his success with the brilliant flop The Last Movie the actor/director began a long and storied slide into an oblivion of drugs and alcohol.
I'm thinking about Hopper tonight because 2018 marks the 30th anniversary of the director's cops and gangs film Colors. Hopper got sober and made his comeback as an actor in 1986, a busy year in which he turned in four fantastic performances in Texas Chainsaw Massacre 2, Blue Velvet, Hoosiers and River's Edge. But Hopper's comeback as a director wouldn't happen until two years later when he directed Sean Penn and Robert Duvall in the gritty cops and gangs film. Colors' concrete realism illuminated Los Angeles' gang culture before most American's had ever heard of the Crips and the Bloods, and actual gang members were cast in the film. Colors also pointed a camera at the uneasy relationship between the LAPD and Los Angeles' black community three years before those pigs beat Rodney King and laid the groundwork for the LA Riots in 1992.
Here's a great documentary about Hopper's life and art…
Please subscribe to my YouTube channel where I archive all of the videos I curate at Insomnia. Click here to check out more occult posts.
Join our Patreon campaign to receive exclusive, personalized, patrons-only art and music giveaways, and become an insider in this creative practice that keeps Insomnia awake.
Support independent art, music and writing at:
Bitcoin: 39tcfRTLCyeAD7kmYuxJviFiJP5hBUNHJk
Ethereum: 0x14Ba8044FF25BfDe2b62eFC6d21d7435DeB31796