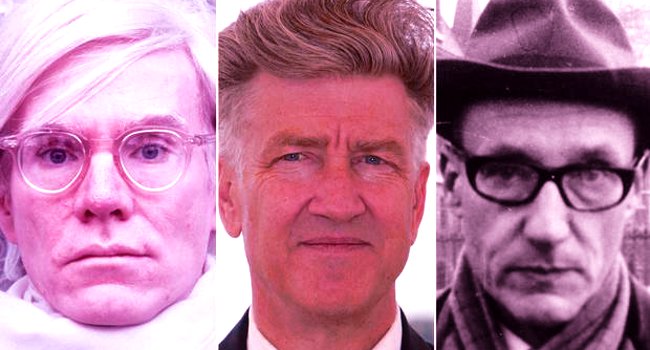 Andy Warhol is better remembered for his paintings, and even his films, than for the hundreds of photographs he took in the last period of his career. William Burroughs' legacy counts writing and even painting before his drawn-on photographs. David Lynch is a known cinematic genius who happens to love capturing still images of massive industrial spaces.
Each of these tertiary bodies of work would be fascinating to see on exhibit, but a gallery in England has decided to display photos by all three artists in a trio of contiguous exhibitions. I know, it's blowing my mind right now. Here's the word from Channel 4:
They're three of the key counter-cultural figures of the 20th century: Andy Warhol the pop artist, William Burroughs the cult novelist and the film maker David Lynch.
Now a trio of exhibitions at London's Photographers' Gallery shows us another side to these men – the view from behind their stills cameras.
Warhol and Burroughs were camera obsessives, taking many thousands of photographs that informed and inspired their creative processes. The David Lynch show brings the director's passion for factories to the fore: he has spent three decades photographing industrial scenes around the world, capturing a mood he recreates in many of his films.

Stay Awake!
Please subscribe to my YouTube channel where I archive all of the videos I curate at Insomnia. Click here to check out more Counter Culture posts.