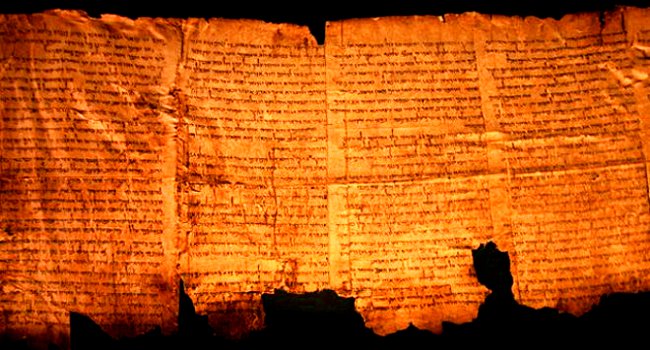 Scholars have discovered nine new Dead Sea Scrolls that had been overlooked during the discovery of the documents in Qumran in the 1950′s. Part of the reason for the oversight might be the diminutive sizes of these new finds. Times of Israel explains:
Phylacteries, known in Judaism by the Hebrew term tefillin, are pairs of leather cases containing biblical passages from the books of Exodus and Deuteronomy. One case is bound by leather thongs to the head and one to the arm during morning prayers, as prescribed by rabbinic interpretation of the Bible. The case worn on the head contains four scrolls in individual compartments, while the arm phylactery holds one scroll.
At least two dozen tefillin scroll fragments were known to have been found during excavations of the limestone caves overlooking the Dead Sea at Qumran in the 1950s (several phylactery boxes and straps were unearthed as well). They were among the world-famous cache of thousands of scrolls and scroll fragments containing biblical and sectarian texts from the Second Temple period. Since their discovery, the Qumran scrolls have been housed at the Israel Museum, and scholars have pored over the ancient documents and opened a window into ancient Jewish theology.
But these nine latest tiny scrolls had been overlooked — until now.
Dr. Yonatan Adler, a lecturer at Ariel University and a post-doctoral researcher on Qumran tefillin at Hebrew University, was searching through the Israel Antiquities Authority's climate-controlled storerooms in the Har Hotzvim neighborhood of Jerusalem in May 2013. There he found a phylactery case from Qumran among the organic artifacts stored in climate-controlled warehouses. Suspecting the case could contain a heretofore undocumented scroll, he had it scanned by an CT at Shaare Zedek Hospital. The analysis suggested there might indeed be an unseen parchment inside.
While that analysis has yet to be confirmed, Adler was spurred on by the discovery, and in December visited the Dead Sea Scroll labs at the Israel Museum. There he found two tiny scrolls inside the compartments of a tefillin case that had been documented but then put aside some time after 1952. The scrolls were never photographed or examined, and so have remained bound inside the leather box for roughly 2,000 years.
Scholars don't expect revolutionary revelations from the new discoveries, but they are anxious to see what light they might shed on Second Temple Judaism.
Stay Awake!
Please subscribe to my YouTube channel where I archive all of the videos I curate at Insomnia. Click here to check out more occult posts.