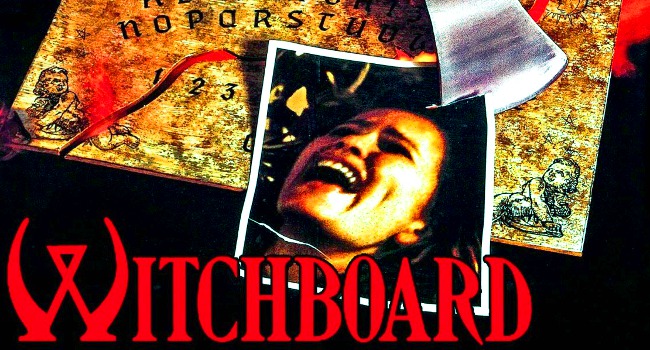 Even as the internet and digital technology drag us inexorably into a faster-moving future, the wake of virtual living stirs up artifacts from the past, recontextualizing them in the frantic now.
One of the best places to find the newly-turned-over flotsam and jetsam of yesteryear is on YouTube where you can watch every episode of that cartoon you loved as a kid, the first music video you ever saw, and even news reports both tragic and triumphant that can bring decades-old memories and emotions flooding back.
I particularly enjoy how YouTube has become an archive of cult films like Witchboard — the best Ouija board movie ever made. Here's the skinny:
Witchboard follows a woman who is introduced to the Ouija board by friends at a party, but when they leave it behind she decides to use it alone and begins to be harassed by an evil spirit whose goal is to possess her so that he may walk the Earth again. Much like a lot of the films of this period this one brings the ultimate fun, cheese and horror front and center to deliver an entertaining film. The film starred White Snake vixen and actress Tawny Kitaen. This film doesn't sport as many bloody kills as some fans may want, but it is unnecessary for this story. While the look of the film is obviously dated the film still holds up mostly due to the never ending creep factor of the Ouija board.
The movie is not super gory but its genuinely spooky and creepy and does a great job of creating real tension and atmosphere instead of just relying on buckets of blood. Plus, again, as the best Ouija board movie of all time, it's required viewing for anyone with even a passing interest in the occult.
Stay Awake!
Please subscribe to my YouTube channel where I archive all of the videos I curate at Insomnia. Click here to check out more occult posts.