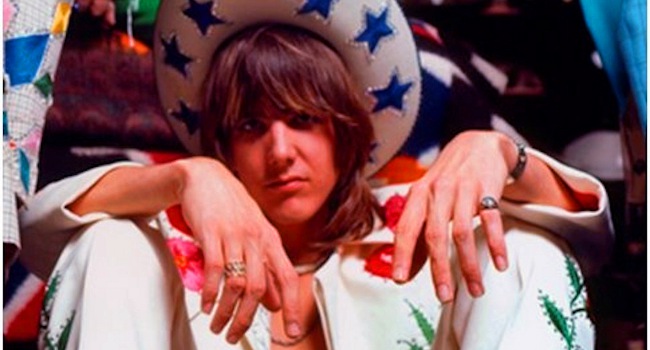 Yesterday I was obsessing about the election, but today I'm pointing at an important something else — the birthday of Gram Parsons. The pioneering singer/songwriter married country music and rock, fusing sincere narratives, steel guitars and an encyclopedic knowledge of all things Nashville, Austin and Bakersfield to the sex and drugs aesthetics of country's ruder little brother. Graham called it "Cosmic Country."
Gram's famous, marijuana-leaf-covered Nudie Suit seems to be on perpetual display at Nashville's Country Music Hall of fame, but I don't know a hard rocking Nashville guitar slinger in any genre who doesn't revere records like Sweetheart of the Rodeo and The Gilded Palace of Sin.
Gram was just one part of a movement that leads from The Bryds to the Eagles, but Graham's contributions to The Byrds, with his own bands, in his solo career and as a Rolling Stone's collaborator make him the prince of the form and an American music prophet who died young. His legacy endures.
Here's a great doc that tells the story of Country Rock…
Stay Awake!
Please subscribe to my YouTube channel where I archive all of the videos I curate at Insomnia. Click here to check out more Music posts