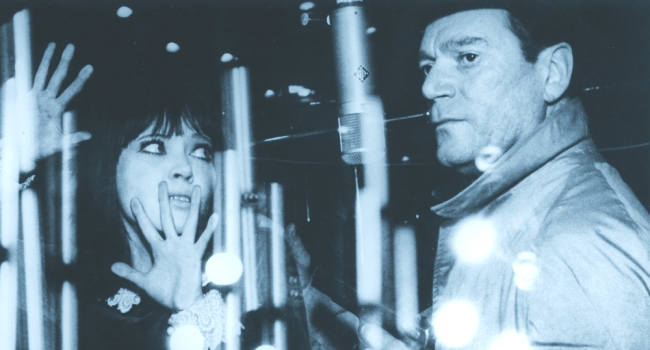 This year we mark the 50th anniversary of Jean-Luc Godard's sci-fi thriller, Alphaville. The futuristic-seeming settings and the presence of actor Eddie Constantine assure us that this is indeed a sci-fi thriller, but this is a Godard film so its also a movie about movies. Here's the word from the British Film Institute…
While the narrative is formulaic, combining a series of conventions from several genres (science fiction, film noir, crime films), Godard's imagery is dense with references to history and cultural texts and often anti-illusionist. If Godard's nouvelle vague colleague François Truffaut failed to make a completely satisfying interpretation of Ray Bradbury's Fahrenheit 451 (1966) the following year, Godard succeeds in making Brechtian science fiction with social satire and critique.
Pulp-fiction secret agent Lemmy Caution (Eddie Constantine), a character originally created by British writer Peter Cheyney and which Constantine had already played in many films (he also reappears as Caution in Godard's later Germany Year 90 Nine Zero (1991), travels to the dystopian, technocratic world of Alphaville – a night's drive through 'sidereal space' in his Ford Galaxie. He poses as a journalist from the 'Outlands' with a secret mission to neutralise the mastermind of Alphaville, Professor von Braun (Howard Vernon), and destroy Alpha 60, the super-computer that controls the city and its people, imposing its logical orientation on all aspects of social organisation. Individualism has been all but eliminated in the logical world of Alphaville. Thus in Alphaville emotion is forbidden, and anyone who reveals emotional behaviour, such as weeping, is arrested and executed in public spectacles.
As is typical of Godard's early work, the story is a pretext for an investigation of a variety of artistic, philosophical and political issues, including the nature and function of art, the power of language and the relation of ideology and culture – issues that came increasingly to the fore as Godard's career grew more overtly political in the late 1960s.
The film anticipates Godard's subsequent abandonment of narrative in favour of a more experimental approach, encouraging viewers to question how film images signify, thus positioning us in direct opposition to the citizens of Alphaville, who are outlawed from asking 'Why?' Because Alpha 60 is omnipresent and omniscient in Alphaville, the computer's voice periodically acts as a voice-of-God narrator. And despite the film's futuristic setting, Godard uses no special effects and no sets, but only actual locations in Paris, the city's modern (at the time) glass and concrete architecture convincingly signifying its dystopian vision. The seemingly endless corridors of office buildings through which Raoul Coutard's camera tracks indicates just how impersonal the world had already become.
Here is British writer and film producer Colin McCabe recalling this landmark film…
Stay Awake!
Please subscribe to my YouTube channel where I archive all of the videos I curate at Insomnia. Click here to check out more Cinema posts.