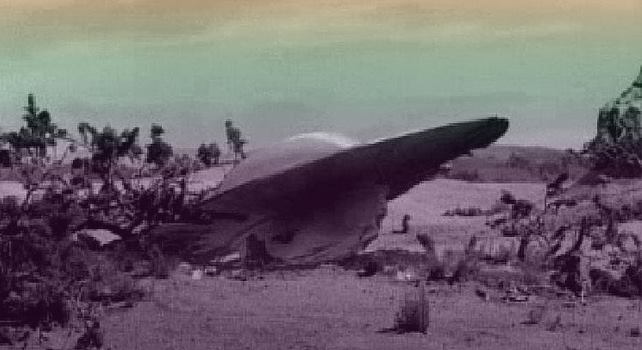 I think the J.F.K. assassination is probably the biggest conspiracy theory of all time, and it's probably still the one that acts as the gateway for most folks who wander the mazes of the unexplained, the unknown and the covered-up. The Roswell Incident is probably a close second contender overall and it remains the king of conspiracy theories where flying saucers and extraterrestrial visitors are concerned.
There is so much confusion about the alleged crash as well as the reports of discovered debris and rescued bodies that it's hard to pin down the actual dates of the event itself. One thing is for sure: on June 24, 1997 the U.S. Air Force published it's 231 page report Case Closed: Final Report on the Roswell Crash. Here's The New York Times on the report, the incident and the conspiracy theory that won't go away…
On June 24, 1997, the Air Force released a 231-page report titled "Case Closed: Final Report on the Roswell Crash." It suggested the alien bodies witnesses reported seeing in Roswell, N.M., in July 1947 were actually life-sized anthropomorphic test dummies.

The Times article from the following day summarized the essence of the report: "No bodies. No bulbous heads. No secret autopsies. No spaceship. No crash. No extraterrestrials or alien artifacts of any sort. And most emphatically of all, no government cover-up."
The U.F.O. phenomenon, which had originated in mid-June 1947 when a recreational pilot reported seeing an object "flying like a saucer would" near Mount Rainier in Washington State. In early July, several witnesses reported seeing flying discs and strange debris on the ground in Roswell, N.M.
Public interest in the reports was ignited on July 8, 1947, when The Roswell Daily Record reported "the intelligence office of the 509th Bombardment group at Roswell Army Air Field announced at noon today, that the field has come into possession of a flying saucer."

The United States government then began an effort, which lasted decades, to investigate and debunk the reports and thousands of similar reports from around the country. Public concern about U.F.O.'s waxed and waned over the next several decades, but never disappeared, fed in part by popular culture.

Here's another mystery: Why does the BBC always make the best documentaries? Maybe it's just the accents? Here's their take on that thing that happened, or didn't, in New Mexico in 1947…
Stay Awake!
Please subscribe to my YouTube channel where I archive all of the videos I curate at Insomnia. Click here to check out more Counter Culture posts.