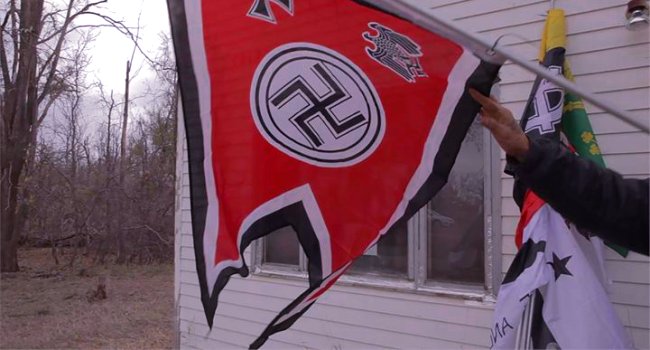 Welcome to Leith will screen in Nashville at Lipscomb University's Shamblin Theatre, tonight at 6:30 P.M. The documentary tells the story of a group white supremacists who attempt to take over a small, North Dakota town to create a racist utopia. The flick wowed at Sundance before screening at the Nashville Film Festival. I previewed a handful of the fest's social issue docs, including Leith, for The Contributor. Here are some of my thoughts along with some insights from Nashville Film Festival Artistic Director, Brian Owens …
Welcome to Leith speaks the unspeakable on behalf of the citizens of a small town who are dumbfounded when white supremacists attempt to turn their community into a haven for contemporary neo-Nazis.
"One thing that was fascinating to me is that the filmmakers got on the ground and in the middle of it," says Owens. "You are there. You feel the danger and the threats. It's a documentary, but it plays almost like an existential horror film." Leith demonstrates cinema's particular power: radio and television broadcasts are full of stories about race in America. But when it comes to non-fiction storytelling nothing communicates like the best documentary films.
"In a really good documentary, there's not a reporter between you and the subject," says Owens. "All they're doing is holding a camera and letting these people tell their own story. It puts you in other people's shoes in a way that other mediums can't."
If you're itching to see a film tonight or you want to see one of the oddest and most extreme features of the state of the nation's racist landscape take a look at Welcome to Leith.
Here's a really great interview with the leader of the film's neo-Nazis that serves as a great primer for tonight's screening…
Stay Awake!
Please subscribe to my YouTube channel where I archive all of the videos I curate at Insomnia. Click here to check out more Cinema posts.