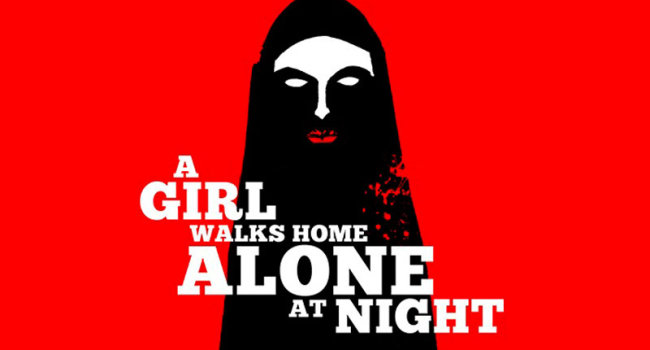 Now that October is upon us, my movie cravings have taken a dark turn: it's all ghosts, gore, demons, detectives, silly spooks and serious scares. If you're like me, the Halloween season inspires fright film bingeing like no other, and Netflix is a great resource for scary streaming this time of year. In next week's Contributor, I'll be publishing a list of my frightening favorites currently streaming on the service. A few weeks ago I highlighted a local screening of another film that's also currently on Netflix and will get your Halloween horror season off to a great start. Here are a few words on A Girl Walks Home at Night…
In the first scene of A Girl Walks Home Alone at Night a young man steals a cat. He wears a white t-shirt and blue jeans. He leans against a wooden post smoking a cigarette. The image evokes both James Dean and Spaghetti Westerns given the Wild-West-style font used in the ongoing title sequence. It's not until the camera reveals street signs written in Persian and Middle Eastern-style accordions overtake the soundtrack that viewers realize they're not in Kansas anymore. 

The young man's name is Arash. He lives in a tiny apartment with his heroin-addicted father, Hossein. Hossein's drug use and gambling have him in debt to a drug-dealer/pimp named Saeed – played with gold-draped relish by Dominic Rains. All of them live in Bad City – a kind of Bizarro World, Tehran suburb that was shot in a desert town in California with a cast of Iranian ex-pats. A power plant tower on the skyline billows eternally. Oil derricks pump without end. Bad City is full of bad vibes and angular shadows that recall the German Expressionist films influenced by F.W. Murnau whose Nosferatu: A Symphony of Horror gave us one of cinema's first – and most chilling – blood-suckers.

After Saeed takes Arash's prized Thunderbird as payment for his father's debts, Arash steals a pair of earrings from the daughter of a rich family he does odd jobs for, planning to trade the jewelry for the car. But when Arash arrives at Saeed's apartment he finds the dealer dead on the floor, covered in his own blood. Arash takes his car back. He also steals a silver briefcase full of drugs, money and a revolver.
In the montage that follows, Arash takes Saeed's place as the neighborhood drug-dealer while the film's stellar soundtrack propels us into Spaghetti Western territory again with soaring trumpets that nod to Ennio Morricone.
After attending a costume party in a Dracula outfit, Arash wanders through Bad City dazed and confused with a head full of Ecstasy. A girl in a chador – a long head-covering that doubles as a cape – rolls by on a skateboard. She stops and offers to take Arash back to her place where he can rest. This was the girl leaving Saeed's apartment just before Arash discovered the dealer's body. Arash doesn't remember her, but we do. Back at the girl's basement apartment she puts "Death" by White Lies on her turntable and the couple embrace in a scene that's as intense, cathartic and romantic as any in recent cinema.
A quick glance at the film's poster will tell you this is a vampire movie. Director Ana Lily Amirpour shoots it in black-and-white. The cinematography and the character-driven story recall Jim Jarmusch's early films as much as they do his own recent vampire tale, Only Lovers Left Alive: When Arash and his mysterious girlfriend drive down a desolate, desert road in the middle of the night I was reminded of the midnight drives through the abandoned outskirts of Detroit in Jarmusch's film. A Girl Walks Home'also reminded me of Lili Taylor's turn as a neck-biting philosophy student in Abel Ferrara's outstanding black-and-whiter, The Addiction.
Amirpour stages most of her vampire feedings with nearly-no-gore – unlike Ferrara who practically dipped his camera lens into all that shiny black blood. There's really spooks here, but they're mostly played for thrills. Amirpour creates loads of atmosphere and mood while infusing this monster flick with feminist themes and a moving examination of lives inspired by dreams but defined by poverty and hardship.
This flick has its scares but it's also superbly stylized, sexy and smart. And a shot of the mysterious girl skateboarding down an empty street in the middle of the night, her chador flapping behind her like a pair of giant bat wings, crackles with such pure cinematic excitement that the most frightening thing about this film might be its scary-talented director.
Here's an interview with the director and her star…
Stay Awake!
Please subscribe to my YouTube channel where I archive all of the videos I curate at Insomnia. Click here to check out more Cinema posts.