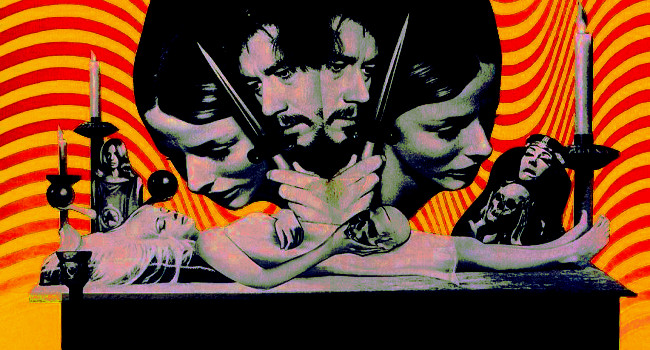 So odd to think it's nearly December. I'm not sure what happened to October and have no idea where November went to. I still have a bunch of scary movie post ideas leftover from October. It doesn't make much sense to post them at this point so I suppose I'll hold 'em for a year. That said, this jewel is a campy, occult, cult classic that boasts a more literate script than one might suppose from its psychedelic poster art, and this film's self-conscious tweaking of supernatural horror film tropes makes it a real treasure. Here's the Wiki regarding Simon, King of the Witches…
Simon Sinestrari (Andrew Prine), a cynical Ceremonial magician, is on a quest to become a god. Simon is living in a sewer, selling his charms and potions for money, when he is befriended by a young male prostitute named Turk (George Paulsin). Turk introduces Simon to his world of drugs, wild parties, and bizarre Satanic rituals featuring a goat and Andy Warhol star Ultra Violet. Death, freakouts and mayhem ensue, along with romance for Simon with the district attorney's vague daughter (Brenda Scott).
What sets Simon, King of the Witches apart from the legion of occult genre films of the late 60′s and early 70′s is the script, which is far more literate and versed in the esoteric than the norm, both offering new twists to and poking fun at the clichés of the genre.
Simon is also much more of a camp satire than a horror film. Several scenes are obviously meant to be taken as black comedy, a fact that tends to escape traditional horror fans.
The movie begins with Simon walking in the rain, reciting a monologue about being a powerful warlock, after which he is immediately busted for vagrancy.
Simon lives in a storm drain, where he performs rituals to the Goddess Aphrodite, and advises us on magical etiquette.
A rainstorm floods the storm drain and washes away his magical paraphernalia.
Turk and Simon crash a "Wiccan" ceremony presided over by Ultra Violet. Every cliché in the book is dragged out, from spooky music, sinister chants, references to "Queen of the Night", to people undressing and eventually worshiping a real live goat. In a separate room, Turk is getting it on with a nude woman on an altar who refers to herself as a "sacred object" (a reference to the Church of Satan tradition of woman-as-altar). Simon is thoroughly unimpressed with the goings on and eventually ridicules the coven much in the way Frank Langella mocks Lena Olin's devil worshipers in the Roman Polanski film The Ninth Gate. The amused couple make a hasty exit with the angered "Wiccans" on their tail.
Simon shares with us his elaborate plans to enter the realm of the gods via sex magic, a special mirror, and the importance of proper timing.
Through all of this, Simon's approach to his magic and the world is nothing short of cynical, and simultaneously practical yet grandiose. He holds absolutely no romanticism at all towards his work and reacts to everything else with laconic amusement.
Here's Simon, King of the Witches…
Stay Awake!
Please subscribe to my YouTube channel where I archive all of the videos I curate at Insomnia. Click here to check out more Cinema posts.