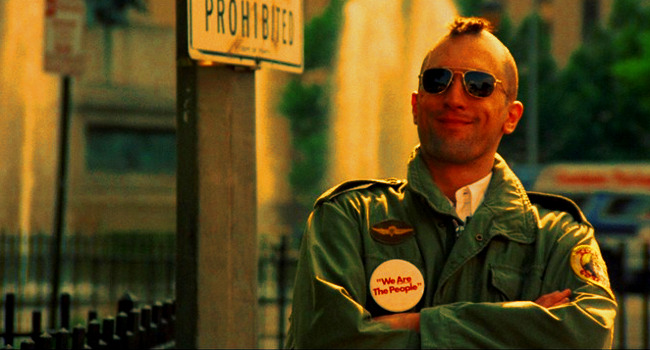 Three years ago I reviewed Steve Schapiro's book of Taxi Driver photographs. Here are some of those words…
Of all the brilliant gems of 1970′s America's New Hollywood Cinema, Martin Scorsese's Taxi Driver may be the grimiest and goriest. Beyond Paul Schrader's loneliness-crazed script or Scorsese's street-level shooting, it's Robert DeNiro's portrait of the mohawked, gun-wielding avenger Travis Bickle that continues to make this film crackle with energy and danger decades later.
Steve Schapiro was the special photographer on the film's set and his black-and-white and color snaps captured the making of the film both in front of the camera and behind the scenes. Schapiro shot the then-dangerous setting of Times Square at night in lurid spectra that captured everything from the shining black of the rain-slicked streets to the painted cheeks of the prostitutes to the blazing white glow of the porno theater marquees to the orange/red orgy of bloody violence at the film's climax. His black-and-white stills are the perfect comment on a character like Bickle who can see only dichotomous extremes from his self-inflicted isolation: saints and sinners, beauty and ugliness, the fallen and the redeemed.
This year we celebrate the 40th anniversary of Taxi Driver. Here's a documentary that gives viewers a street level perspective at the making of this unlikely American classic…
Stay Awake!
Please subscribe to my YouTube channel where I archive all of the videos I curate at Insomnia. Click here to check out more Music posts