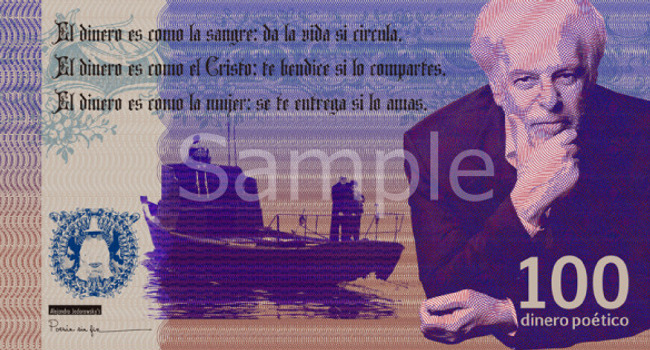 If you're following this blog you're probably a big fan of the films of Alejandro Jodorowsky. I love the man and his movies and last night, thanks to Antonia, we received a package from the master himself. It contained a postcard, a poster, and a hand-printed thank you note along with three bills of the master's "poetic money." We received this because my girlfriend, Antonia, was smart enough to respond to this call for support more than a year ago. Go here to see our bounty, and read on to find out more about Jodorowsky's soon-to-be-released project…
Alejandro Jodorowsky is one of my favorite filmmakers, but that won't come as a surprise to anyone who follows my posts. I've seen all of the master's films and was particularly excited by last year's release of both The Dance of Reality and the documentary Jodorowsky's Dune. The former was Jodo's most recent feature film and the elegiac tone of the movie felt a bit like a summing-up of a life and a career, and a few friends of mine even opined that they thought it would be the great magician's last illusion.

Not so.

Taking a page from the younger set, Jodo has a new Kickstarter campaign underway to fund his next cinematic project. Here's the skinny…
After a 23 yearlong absence, the director of cult classics El Topo (1969) and Holy Mountain (1973) made his comeback in film direction in 2013 with The Dance of Reality. The film was based on the first part of Alejandro Jodorowsky's homonymous autobiographical book, depicting his childhood years in Tocopilla, Chile. His new film ENDLESS POETRY (Poesía Sin Fin) will be based on the latter half of the same book, depicting the author's youth in lively Santiago de Chile.
Our world is suffering from a devastating absence of poetry. Naïvely we sometimes hope to reconnect with it through film. But the greed-riddled industry, having colonized this magnificent art form, has done everything to strip it of its poetic power. With this film, Jodorowsky directs his energy more than ever into creating a film that can serve as a vehicle for awaking consciousness. It is our duty to enable all efforts to fight the powers that insist on lowering cinema to just a product in a commercial market. This film will bring forth an example of film's poetic power.
ENDLESS POETRY (Poesía Sin Fin) flashes back to those decisive years in Alejandro Jodorowsky's youth; years that defined the principle that would reign over his entire life: Poetry. The director's life has been a constant effort to expand his imagination and push back against his own limits in order to apprehend and harness the potential for liberation that lies within each and every one of us. His career has been an open invitation to follow him in his efforts.
ENDLESS POETRY (Poesía Sin Fin) will be carried out as an offering both to film and to the general audience, who are infinitely more profound, intelligent and sensitive than the Hollywood industry would like to admit.
ENDLESS POETRY (Poesía Sin Fin) explores the magic reality underlying our surrounding world. The film seeks to inspire and encourage us all to dare to find our true selves. It is an invitation to Life.
One of the coolest aspects of the campaign involves Jodo's trading his donor's actual cash for the special, gorgeous "Poetic Money" that he's printed for the fundraiser. Check out his Kickstarter video…
Check out Jodorowsky's Kickstarter here.
Stay Awake!
Please subscribe to my YouTube channel where I archive all of the videos I curate at Insomnia. Click here to check out more Cinema posts.