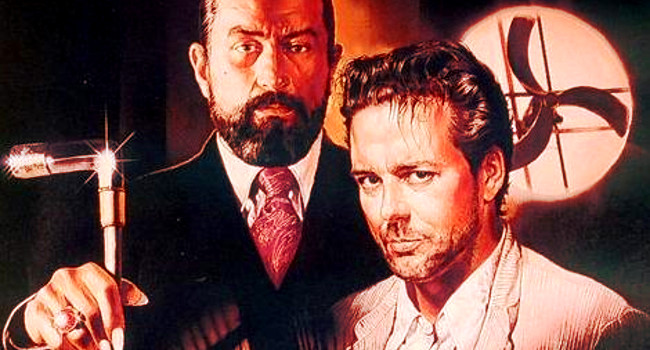 Reading some stories on Flipboard the other morning, I came across this piece about Alan Parker's Mickey Rourke, Robert DeNiro and Lisa Bonet film, Angel Heart. Check out this headline:
ALAN PARKER'S ANGEL HEART IS ASTONISHING AS HELL
Obviously I had to flip this to find later and post here for y'all. Here's a bit from this long, loving analysis of the iconic film…
English film director Alan Parker was first introduced to William Hjortsberg's novel 'Falling Angel' almost immediately after its publication in 1978, but it took another seven or eight years for him to start working on its film adaptation, as the rights to the book passed from one pair of hands to the other. Parker loved the novel—a fine horror story of a hard-boiled detective accepting one job too many and finding himself up to his elbows in the occult and supernatural circumstances he couldn't possible prepare himself for—and while writing the script he made only a handful of adjustments, determined to make sure Hjortsberg's story is presented to viewers in the same dark, unsettling manner as the original. Even though he first approached Jack Nicholson to play the main role, the One Flew Over the Cuckoo's Nest star passed on the offer, much to Mickey Rourke's delight. Upon meeting with Parker, as the filmmaker humorously puts it "looking like he always does off-screen, like an unemployed gas station attendant," Rourke adamantly insisted he was not only the right man for the job, but the only one. After Robert De Niro finally accepted to take part in the project—and this happened only two weeks before the scheduled start of shooting—Parker was ready to embark on this ominous journey which would ultimately lead to the creation of one of the most haunting psychological horror films of the last half a century.
Check out the rest at the link above after watching this Mickey Rourke interview from the Angel Heart Blu-ray…
Stay Awake!
Please subscribe to my YouTube channel where I archive all of the videos I curate at Insomnia. Click here to check out more Cinema posts