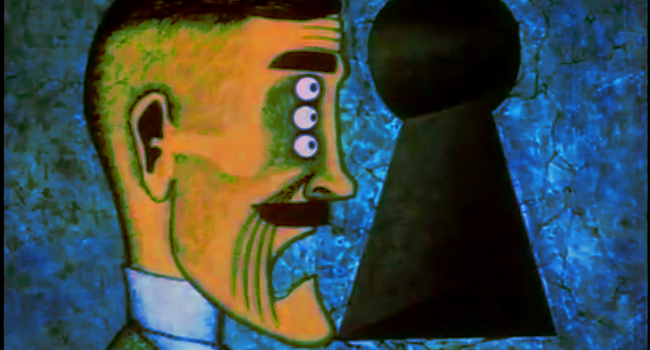 Growing up during the second half of the Cold War, when I was a child the Soviet Union was notable for two reasons: nuclear weapons and censorship. That's about all I really knew: the Russians and citizens of their satellites can't read or watch or print what they want. Also they have enough warheads to make our assured destruction one of the mutual sort.
I know I'm constantly posting stuff from Open Culture here, but that site is so smart and their free-to-watch/read/listen to finds are a kind of palette cleanser for the shitty mall that most of the internet has become. I came across another great find on the site today, one that put me back in mind of those nights when I couldn't sleep because I was worried about nuclear annihilation. You know — childhood for Generation X. Here's a bit about Glass Harmonica, the only animated film ever banned in the Soviet Union…

At first glance, one would think The Glass Harmonica would fit right into the long tradition of Soviet propaganda films begun by Vertov. As the opening titles state, it aims to show the "boundless greed, police terror, [and] the isolation and brutalization of humans in modern bourgeois society." And yet, the film offended censors due to what the European Film Philharmonic Institute calls "its controversial portrayal of the relationship between governmental authority and the artist." There's more than a little irony in the fact that the only fully censored Soviet animation is a film itself about censorship.
The central character is a musician who incurs the displeasure of an expressionless man in black, ruler of the cold, gray world of the film. In addition to its "collage of various styles and a tribute to European painting"—which itself may have irked censors—the score by Alfred Schnittke "pushes sound to disturbing limits, demanding extreme range and technique from the instruments." (Fans of surrealist animation may be reminded of 1973's French sci-fi film, Fantastic Planet.) Although Andrei Khrzhanovsky's film represents the effective beginning and end of surrealist animation in the Soviet Union, only released after perestroika, it stands, as you'll see above, as a brilliantly realized example of the form.
Stay Awake!
Please subscribe to my YouTube channel where I archive all of the videos I curate at Insomnia. Click here to check out more Cinema posts