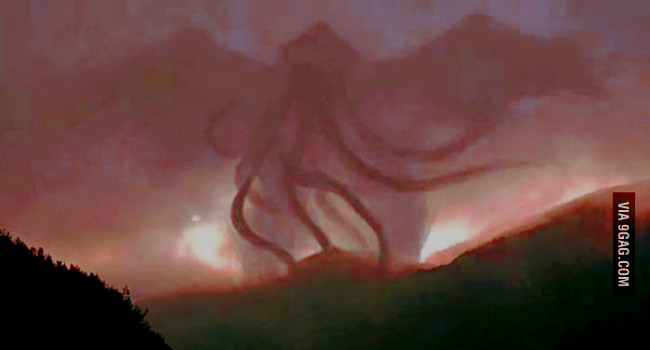 One last monstrous post before the the witches take over the night sky, the jack-o-lanterns cackle and the veil is pierced with mischief, mayhem, lunacy and eros. This year we celebrate the 90th birthday of H.P. Lovecraft's short story "The Call of Cthulhu" which appeared in Weird Tales in 1926. Here's what a couple of bad ass writers have said about the tale…
The published story was regarded by Robert E. Howard (the creator of Conan) as "a masterpiece, which I am sure will live as one of the highest achievements of literature. Mr. Lovecraft holds a unique position in the literary world; he has grasped, to all intents, the worlds outside our paltry ken."[12] Lovecraft scholar Peter Cannon regarded the story as "ambitious and complex…a dense and subtle narrative in which the horror gradually builds to cosmic proportions", adding "one of [Lovecraft's] bleakest fictional expressions of man's insignificant place in the universe."[13]

French novelist Michel Houellebecq, in his book H. P. Lovecraft: Against the World, Against Life, described the story as the first of Lovecraft's "great texts".[14]
An article I found on Flipboard this weekend addressed how H.P. Lovecraft's aesthetic has become a major influence on contemporary Hollywood even if the author's works have yet to be acceptable in tinsel town. Did you know H.P. was a big racist? Check this…
HP Lovecraft wrote some of the most bizarre, imaginative and influential horror stories in the English language. But he was also a dangerous bigot. Is that why Hollywood still fears him?
HP Lovecraft's tentacles are all over the modern horror movie. The cult author's squelchy, slithery yarns influenced HR Giger's iconic Alien design, inspired John Carpenter's nightmarish masterpiece, The Thing, and have been a consistent reference point for Guillermo Del Toro, from Pan's Labyrinth to Hellboy.
But though Lovecraft, whose jazz age fiction posited a godless universe presided over by monstrous "Great Old Ones", can justifiably be described as a giant of the genre, he is, in other ways, deafeningly absent from our screens. His work has been adapted on many occasions, from 1970's Roger Corman-produced The Dunwich Horror to last year's Russian-made The Haunter of the Dark.
Yet none of these films have penetrated the public consciousness. They are appreciated by a tiny circle of uber-fans even as they remain thoroughly obscure to a mainstream audience.
Racists demonstrate the worst combination of stupid and hateful, and Lovecraft was guilty of both. He was also a literary visionary even if it could be argued that he really wasn't a great writer. Hate the racism, but love the art. If you're reading this blog you're probably smart enough to do both.
Here's H.P. Lovecraft: Fear of the Unknown. Happy Halloween!
Please subscribe to my YouTube channel where I archive all of the videos I curate at Insomnia. Click here to check out more Cinema posts