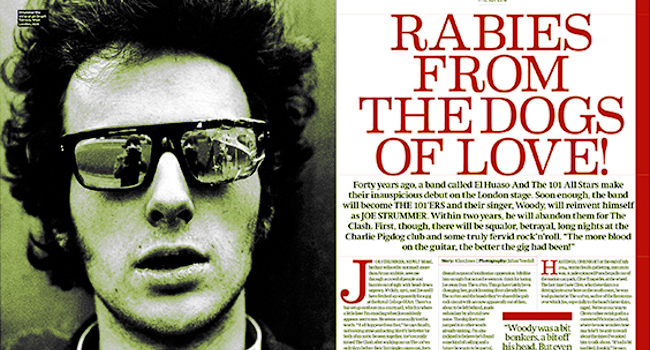 Over the holiday I missed out on posting about the 14th anniversary of Joe Strummer's death from an un-diagnosed congenital heart defect on December 22, 2002. I celebrated The Clash's 30th birthday with a slew of posts this last summer and I wanted to revisit this Joe-centric notice to recognize his passing last week. Here's a bit about the documentary Viva Joe Strummer – The Clash and Beyond followed by the film…
Here's another post celebrating The Clash at 30: Viva Joe Strummer – The Clash and Beyond documents the British rocker's childhood as as diplomat's son, his rock 'n' roll initiation with The 101ers, his storied history with The Clash to Strummer's overlooked later career music which was cut short by his untimely death in 2002. Here's the word from Open Culture…
Viva Joe Strummer gives us loads of concert footage and interviews with band members and close friends like the Sex Pistols' Glen Matlock. The focus remains on Strummer, a frontman with tremendous charisma but also, paradoxically, with a tremendous amount of humility. One reviewer of the film says as much:
Joe Strummer always projected himself as a humble man. Even at the height of The Clash's megalomania, when he fired guitarist Mick Jones, Strummer came across like a better read, more worldly Bruce Springsteen. The everyman image has made eulogizing the singer difficult.
This suggests that Strummer's everyman persona may have been part of his showmanship, but even so, he was respected and admired by nearly everyone who knew him. And his proletarian politics were genuine. As one interviewee says above, "he always had a corner to fight in. He always had someone to stick up for."
Here's Viva Joe Strummer…
Stay Awake!
Please subscribe to my YouTube channel where I archive all of the videos I curate at Insomnia. Click here to check out more Music posts.