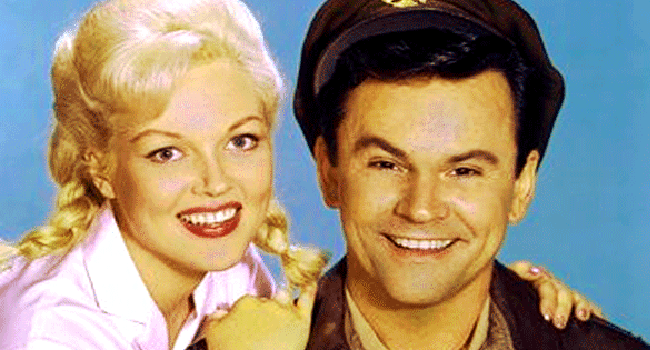 This June 29 we will mark 40 years since the murder of Hogan's Heroes television star, Bob Crane. Crane was a successful leading man on the small screen, and the conservative head of his small town, American family. The only thing that seemed odd about the Crane clan was that dad was famous for making people laugh on television. No harm there.
But Bob Crane lived a double life: TV star/family man in the public eye, and sex addict/amateur pornographer away from the set and his family. I might post more about Crane at the official anniversary of his death this summer, but I'm posting about Crane's dark life today because his son has just released a new book illuminating his father's long shadows and attempting to cast some light on Crane's still-unsolved murder. Here's the word from the Daily Mail…
'The red light was always on in my dad's makeshift film processing lab,' writes Robert Crane in his riveting account of his father's very secret and sordid lifestyle in Crane: Sex, Celebrity and My Father's Unsolved Murder, published by University Press of Kentucky…
He spent his 'off-duty' time developing hundreds of photographs of the actresses and Playboy Playmates who were always stopping by the set. Word was out that the Hogan's set was the place to market your wares if you were young, shapely, and of the female persuasion.
All the kink ended on June 29, 1978, when Victoria Berry, Crane's co-star on Beginner's Luck, ran screaming from the TV star's apartment, unit 132A of the Winfield Apartments in Scottsdale. Crane's body was found lying on its right side atop a queen-sized bed, clad only in boxer shorts and wearing a wrist watch.
An electrical cord was fastened tightly around his neck and a pillow stood vertically at the top of his head.

Two parallel gashes were above and behind the left side of his head that left a fan of blood across the ceiling, the wall behind the top of the bed and the nightstand lamp. Human tissue was on the wall; the bed sheet and pillowcase were soaked with blood.
Watch the documentary Murder in Scottsdale for a deep dive into Crane's dark side, and the investigation of his still unsolved murder…
Please subscribe to my YouTube channel where I archive all of the videos I curate at Insomnia. Click here to check out more occult posts.