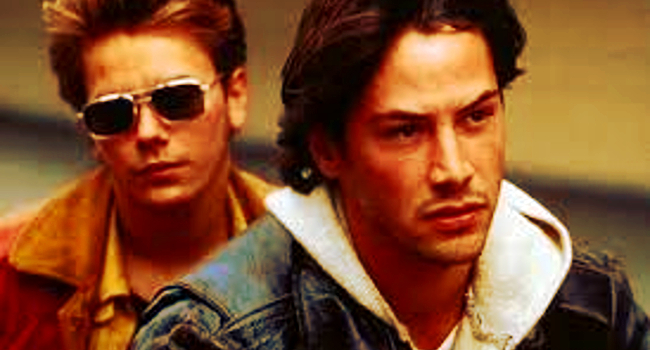 I saw My Own Private Idaho in the theater when it was released back in 1991. I mention this because the seemingly-timeless 'Idaho simultaneously feels like a movie of its time, and of my time. In the 1990's Generation X took over the culture: Nirvana, Bill Hicks, Tarantino. Anna Nicole Smith brought back the bombshell, and Ben Stiller had a television show on MTV. Independent movies exploded in the 1990s and a number of homegrown storytellers emerged to spotlight a crop of smart young actors like Keanu Reeves and River Phoenix. Those two looked just like our friends who were leaving college and stepping into a recessed economy where creative young people flourished on strong coffee and clove cigarettes, and decorated themselves in thrift store style. My Own Private Idaho is one of my favorite Shakespeare adaptations, it's a great story about growing up, and I'm reminded of the movie because the 1990s most timeless film screens at midnight on Friday at the Belcourt Theatre in Nashville.
My Own Private Idaho came out in September of 1991 at the beginning of my last year in college in Michigan where I was growing my hair long, writing my first newspaper stories and living in an off-campus apartment. On Halloween night in 1993 River Phoenix died at the Viper Room in Los Angeles. He was two months younger than me. I'm a Gemini. He was a Virgo. Generation X is haunted by the Age of Aquarius and it's inextricably linked to America's 1960s. A generation of rockers, rebels, hedonists, hellions, and righteous rabble rousers caused our seismic cultural shift after World War II, but Generation X was the result. Manson, Kennedy, MLK, LSD, Mutually Assured Destruction – the 1990s wrapped them in cynicism, side-eyed them with suspicion, and eventually steered the culture from sex, drugs and rock 'n' roll toward satire, techno and MDMA. 90 is 60 upside down, and the more things change the more they stay the same. River was our Janis.
My Own Private Idaho tells the stories of two friends from different worlds: Mike (River Phoenix) is searching for his long lost mother. Mike is also the film's narcoleptic narrator, and the images director Gus Van Sant creates to evoke Mike's dreamlike reveries are the film's visual signature. Van Sant is one of our most consistently challenging filmmakers, but 'Idaho's many indelible – if ineffable – frames make this movie the auteur's most poetic. Mike and his friend Scott (Keanu Reeves) are both young prostitutes who live on the streets in the Pacific Northwest. They get picked-up by both men and women, and sometimes sleep in places like abandoned apartment buildings. They belong to an underground network of prostitutes and drug addicts who serve as a freaky foster family of runaways and throwaways. Secretly, Scott has a very different background from Mike and the other street kids, and his story borrows from Shakespeare's "King Henry IV" and "King Henry VI."
Cinematographers John J. Campbell and Eric Alan Edwards lens some gorgeous pictures here, but 'Idaho's quiet beauty is effectively contrasted against the grimy scene that Mike and Scott move through, and the angular, off-beat performances by many of the non-actors cast in the film. At one point Van Sant was planning to shoot his script using only real street kids that he knew in Portland. In the end he cast many of them as Mike and Scott's fellow hustlers and they help to ground the film's time-lapse tapestries in a real-feeling milieu of black coffee and blowjobs, cigarettes, sentiments and heartache.
My Own Private Idaho is a love story focused on Mike's deep alienation and the numbness that results from his drug use and his sleep-inducing condition. Because Mike can't find his mother and re-connect the fundamental break that defines his sense of himself, he instead simulates something like love with the strangers he engages with for money, and he projects his feelings onto those around him no matter if those feelings are appropriate or reciprocated. My Own Private Idaho is a deep, sometimes surreal vision of complex people with complex feelings trying to negotiate the connections and boundaries that define friends, family and lovers. And it's also about the damage that can result when those connections and boundaries become confused, constraining or sometimes suddenly severed.
At one point in "King Henry IV," Shakespeare writes about how people sometimes make decisions to transform themselves. But My Own Private Idaho reminds us that we are forever part of the people we come from, and the film's final scenes seem to say that life is a but dream, but not a dream we get to choose or one we can wake from.
Please subscribe to my YouTube channel where I archive all of the videos I curate at Insomnia. Click here to check out more Cinema posts.