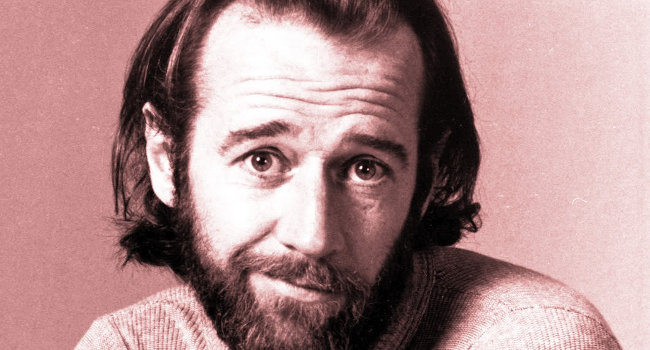 Surfing the web last week, researching the history of Syria and the country's recent civil war in anticipation of what looked like and inevitable and soon-to-come missile strike on the country by the U.S., I discovered this treasure: A great little YouTube compilation of nearly all of comedian George Carlin's searingly satirical bits on the hypocrisy of the American government and American culture. A lot of user-edited content on the site is, of course, garbage, but this career-spanning compendium of raving rants and word wizardry by the master is the exception to the rule.
According to Brainfeed.ca's description of the video:
George Denis Patrick Carlin (May 12, 1937 — June 22, 2008) was an American stand-up comedian, social critic, satirist, actor, and writer/author who won five Grammy Awards for his comedy albums. Carlin was noted for his black humor as well as his thoughts on politics, the English language, psychology, religion, and various taboo subjects. Carlin and his "Seven Dirty Words" comedy routine were central to the 1978 U.S. Supreme Court case F.C.C. v. Pacifica Foundation, in which a 5–4 decision by the justices affirmed the government's power to regulate indecent material on the public airwaves.
The first of his 14 stand-up comedy specials for HBO was filmed in 1977. From the late 1980s, Carlin's routines focused on socio-cultural criticism of modern American society. He often commented on contemporary political issues in the United States and satirized the excesses of American culture. His final HBO special, It's Bad for Ya, was filmed less than four months before his death. In 2004, Carlin placed second on the Comedy Central list of the 100 greatest stand-up comedians of all time, ahead of Lenny Bruce and behind Richard Pryor. He was a frequent performer and guest host on The Tonight Show during the three-decade Johnny Carson era, and hosted the first episode of Saturday Night Live. In 2008, he was posthumously awarded the Mark Twain Prize for American Humor.
I'm a huge fan of stand-up comedy and as a performer and speaker, I've been studying the form for years, attempting to glean some understanding of how performers who take to the stage with nothing but a mic and a head full of stories and opinions can captivate an audience in a way that a loud-ass rock band might envy. I've read books, listened to interviews and studied endless numbers of comedy albums and concert films during my self-education. I love Pryor, Bruce, Oswalt, Cosby, Rock, Degeneres, Seinfeld, Galifianakis, Hedberg and Hicks, but, for me, nobody is a brilliant as George. I wonder what he would say about this most recent mess we've gotten ourselves into?
Here's the video:
Who is your favorite comedian? Why? Teach me something I don't know!
Please subscribe to my YouTube channel where I archive all of the videos I curate at Insomnia. Click here to check out more Counter Culture posts.