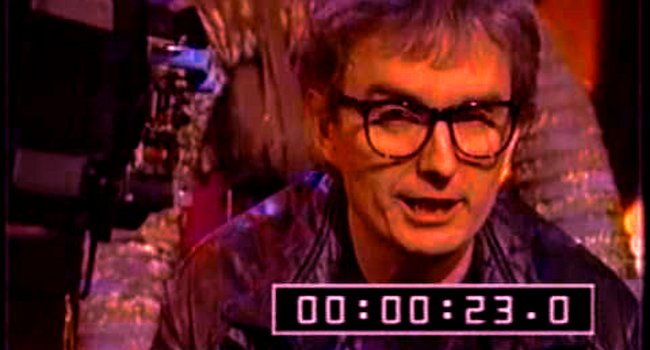 Taking a break from our spooky October posts here at the end of the month — we'll let today's merrymaking bring its own hard-earned scares — here's a great little show from Canadian television that I stumbled upon the other day. Prisoners of Gravity was an interview show disguised as a pirate broadcast, covering all sorts of books, films and art through a countercultural lens to dazzling effect. The series aired 139 episodes over 5 seasons from 1989 to 1994. Here's the word from the Wiki…
As established through a comic-strip montage opening sequence drawn by Ty Templeton, the premise held that a fan of speculative fiction becomes disturbed by news broadcasts describing the alarming state of the world and decides he must escape. He broadcasts his show each week from an orbiting space station. The show's presentation was fully wrapped in its quirky premise, featuring on-screen graphics and background sounds to simulate a space station atmosphere, "using active, innovative cinematography to ease the visual boredom that often accompanies interviews with talking head(s)."
The week's topic was introduced with a few opening thoughts before launching into various interview clips. In each episode, Rick would interview a number of authors and artists, along with filmmakers, animators, and the occasional futurist. Topics that were discussed ran the gamut: censorship, superheroes, humour, religion, fairy tales, Mars, cyberpunk, war, overpopulation, sex… Episodes were 30 minutes in length (having no commercial breaks on public television) and typically showcased six to fourteen interviewed creators alongside bridging commentary from Rick. Roughly six-hundred interviews were conducted and aired by the time the show's run came to an end.
Prisoners has its own YouTube channel and this playlist is a bit chaotic so you'll need to bounce around a bit to follow episode to episode. I've set the video in this post to start with the first segment of an episode that deals with racism because it dovetails so nicely with the recent news about Marvel's upcoming Black Panther film. Here's a bit about that from The Guardian…
The newly announced films are two-part Avengers sequel Infinity War and a Captain America movie called Civil War, alongside new film outings for Doctor Strange and – most interestingly – Black Panther.
The latter will be Marvel's first lead black superhero, and it's a breakthrough moment. The positioning of this ethnic minority as heroic – however tortured that heroism may likely be – is a valuable statement in this most high profile of US pop cultural products, in a year when the dominant media image of black men has been as subordinated to (often white) police.
My favorite thrill with this show comes at the beginning of every episode when it seems like a program called Second Nature goes to static and is "interrupted" by the program — so retro-meta I wanna roll around in back issues of Mondo 2000. Enjoy Prisoners of Gravity…
Stay Awake!
Please subscribe to my YouTube channel where I archive all of the videos I curate at Insomnia. Click here to check out more Counter Culture posts.